Attendance strong for 10th Region X Student Transportation Conference
Posted on November 30, 2012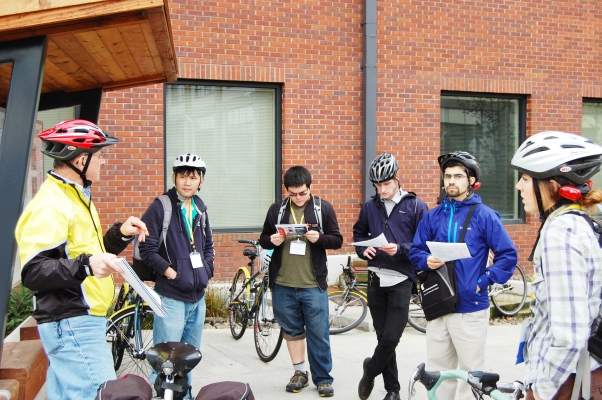 PSU's Students in Transportation Engineering and Planning (STEP) hosted the 10th Annual Region X Conference on November 16, and it was the most widely-attended Region X event in recent memory.  With participating universities including Oregon State University, Cal Poly Pomona, University of Oregon, University of Utah, University of Washington and Washington State University, the more than 100 registrants "really surprised" STEP President S. R. Thompson. "The turnout was high compared to previous years." This is likely in part due to the first-time participation of the two Washington schools.
This year's conference featured student research presentations and a poster session, as well as three afternoon breakout sessions that offered tours of effective transportation engineering examples in the Portland Metro area. Thompson reports a unanimously positive response to the breakout sessions from those tour participants who followed up with her after the conference adjourned.
The conference's morning keynote was also popular and garnered plenty of student participation in the discussion that followed. "We did things a little differently for the keynote presentation this year," Thompson said. The presentation featured a panel of notable transportation professionals from the Portland area who each discussed their respective entries into the transportation field as well as the joys and challenges of the work.
"We were lucky in terms of our panel participants, and people really enjoyed it," Thompson said. One of the panelists, Mia Birk from Alta Planning + Design, during the presentation enthusiastically endorsed the work of transportation planning, while also offering some "tough love" to transportation and engineering students. The next generation of transportation professionals "will need a wide swath of skills" beyond their technical training, including but not limited to tech literacy, "writing, public speaking and finance," said Birk.
On the whole Thompson received a lot of positive feedback in person about the panel and about this year's conference. A follow-up survey of participants is planned in order to gather even more comments. Students at the University of Washington are slated to host next year's Region X Conference.
-- Sophie Goss
Share this: