Conference puts students at heart of transportation system
Posted on November 30, 2011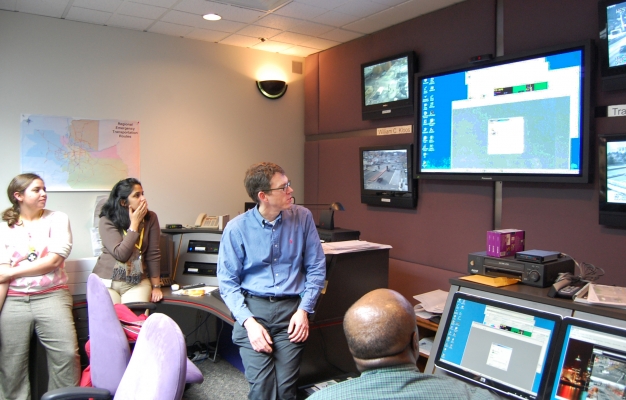 In town to network and share research results, participants in the Region X Student Transportation Conference also saw the inner workings of the transportation system and even got to stop Portland traffic. 
The ninth annual conference drew around 75 people to Portland November 18. The conference showcases student transportation research in Oregon, Washington, Idaho and Alaska and is entirely organized and run by students.
This year, the conference also featured breakout sessions and tours with working transportation professionals. Groups visited the Oregon Department of Transportation Region I incident management command center, dug into city of Portland traffic signal systems and operations, toured the city's bicycle infrastructure and explored the mechanics of Portland's drawbridges in detail with three bridge lifts.
Portland State University's student group, Students in Transportation Engineering and Planning, or STEP, hosted the conference, which was sponsored by OTREC. The conference provides plenty of formal and informal opportunities for students working at different universities to inform each other, said Kristi Currans, an organizer with STEP.
"My favorite part is just having all the students get together and find out all the research everyone is doing," Currans said. "Even within Portland State, if people are working for different professors, I might not know what they're working on."
The conference drew students from Portland State, the University of Oregon, Oregon State University, Oregon Institute of Technology and the University of Portland. The annual Oregon Institute of Transportation Engineers' William C. Kloos Traffic Bowl, held the previous evening, also drew a team from the University of Washington.
Oregon State's team finished first in the Traffic Bowl, a Jeopardy-style tournament testing students' knowledge of transportation engineering, history and trivia.
At the conference, University of Oregon planning graduate student Cortney Mild was named OTREC student of the year. Mild will be honored alongside other U.S. DOT university transportation center students of the year at the annual meeting of the Transportation Research Board January in Washington, D.C.
Portland State has hosted the conference two previous times, in 2004 and 2007. Oregon State hosted in 2010 and the University of Oregon hosted in 2009. The University of Washington hosted in 2003 and 2008.
Share this: