U.S. Representative Earl Blumenauer leads transportation forum at PSU
Posted on August 7, 2014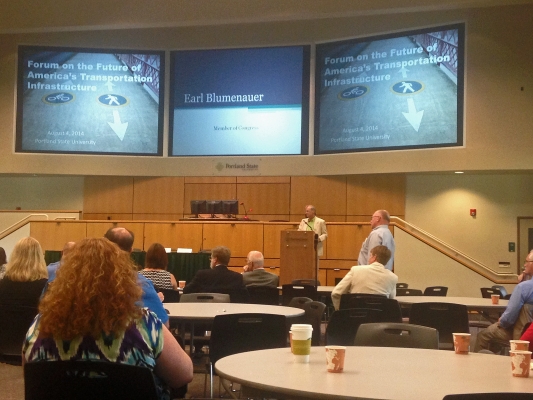 Congressman Earl Blumenauer called together a group of transportation policy makers on Monday, August 4, for a "Rebuilding and Renewing" forum.
Transportation professionals and officials from every level of government, from the federal to the local, met at Portland State University to discuss how to maintain and revive America's transportation infrastructure.
Blumenauer, the representative for Oregon's 3rd Congressional District, advocates fuel taxes and VMT taxes to pay for infrastructure needs.
As the Highway Trust Fund rapidly shrinks and America's deteriorating roads and bridges silently cry out for maintenance, Congress is in the process of trying to determine the best, most sustainable path forward.
During Monday's forum, a variety of voices were sought out and listened to. Bill Wyatt, executive director of the Port of Portland, gave opening remarks and introduced Blumenauer, who spoke about dwindling highway funds and the need for investment in infrastructure to keep the nation's economy alive.
He was followed by Tamara Lundgren, CEO of Schnitzer Steel and Chair of the U.S. Chamber of Commerce, who described infrastructure maintenance as both an economic and a moral imperative. Not only does a reliable freight network strengthen commerce, Lundgren pointed out, but making the necessary improvements to transportation infrastructure can save lives as well as protect the environment. She cited the 2007 collapse of the I-35 bridge as an incident that must not be allowed to repeat.
Tom Chamberlain, president of the Oregon AFL-CIO, followed Lundgren and expanded upon the economic argument, pointing out that the economy is "interconnected, like pieces of a puzzle," and that to be competitive in a global economy requires a world-class infrastructure.
Ted Wheeler, the state treasurer of Oregon, touched on the idea of using private funds for public infrastructure, a solution that some countries have turned to with success. Wheeler spoke about the 2014 Oregon State Legislature's directive and funding to pursue seven trial projects designed to "reinvent" the public sector's relationship with the private sector. Each of the pilot projects is large and complex relative to the local jurisdiction's capacity, and is critical to the future economic prosperity of Oregon. The legislature, in providing funding and a directive, stipulated that the public must retain ownership of the infrastructure and there must be public accountability for the projects' implementation.
Matt Garrett, Director of ODOT, and John Charles, President & CEO of the Cascade Policy Institute, talked about the need for more transportation funds and intelligent allocation of them. Following the speakers were three panel discussions.
Debra Dunn of Oregon Trucking Associations, Marie Dodds of AAA of Oregon/Idaho, and Ted Aadland of Associated General Contractors discussed the effects of federal funding on travel and commerce in a panel session moderated by Randy Miller, director of Produce Row.
Andre Baugh, of Group AGB, moderated a panel on local and regional perspectives on infrastructure. Panelists were Portland Mayor Charlie Hales, Multnomah County Chair Deborah Kafoury, and Jack Burkman, a council member of the City of Vancouver, Washington.
A third panel, on state and local funding options and challenges, was moderated by Mike McArthur, executive director of the Association of Oregon Counties. The panelists were representatives of city and state government: Steve Novick of the City of Portland, Oregon State Representative Tobias Read, and Karmen Fore, from the office of Governor John Kitzhaber.
Following the panel discussions, the microphone was opened to comments from the floor. Attendees were given the chance to speak about their perspectives and priorities regarding transportation policy, VMT and fuel taxes, and pressing infrastructure needs.
Share this: