Course uses Portland as laboratory for bicycle and pedestrian design
Posted on August 22, 2011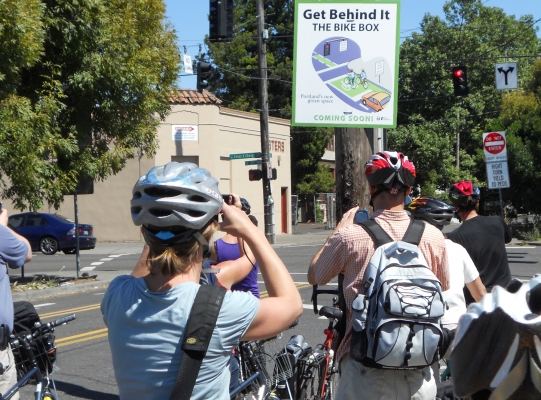 The Initiative for Bicycle & Pedestrian Innovation at Portland State University hosted a weeklong boot camp on bicycle and pedestrian design geared toward transportation planners, engineers and other public officials.
"There's a dearth of knowledge among most practitioners," said IBPI Director Lynn Weigand. "Most engineering and planning curricula don't include any elements of bicycle and pedestrian planning and design.
"There's an increased demand for alternatives to make communities safer for biking and walking."
The intensive course, Aug. 15 to 19, featured classroom sessions, discussions, daily field tours of Portland facilities and project applications. Public- and private-sector experts served as program instructors.
For attendees, the program offered the chance to learn how various active transportation concepts fit together in one community.  Tyler Palmer, a division manager with the Moscow, Idaho, public works department, came looking for guidance on his city's multimodal transportation master plan.
"This is going to be really helpful for us in steering that process," Palmer said. "It will help give us the tools we need to analyze our system and see what works best."
Jumping into a master plan without those tools could result in costly oversights, he said. "What if we get 10 years from now and hundreds of thousands of dollars later and we say 'Oh shoot! We did that wrong.'"
For Julie Luna, trails planner with the city of Albuquerque, N.M., the course stressed the importance of bringing stakeholders together under a shared vision. "People (in Portland) are cohesive and all working together for calmer streets," Luna said. "There's this whole culture around complete streets."
Luna will take that mindset back to Albuquerque with the hopes of competing better for a Sustainable Communities grant.
"We can really go further and do something like Portland did and get other agencies involved," she said.
The course also offered a chance for networking among peers who don't often meet, and rarely discuss bicycle and pedestrian planning when they do. "Municipal governments can get isolated," Palmer said.
"We're all facing the same problems, but there's so little communication."
If the past serves as a guide, this year's attendees will put their new tools to good use in their communities. A 2008 participant, Diane Wiatr with the city of Tacoma, Wash., testified to the course's effects:
"The knowledge that our Public Works engineers and have I gained has been critical to the progress we've been making in getting Tacoma to be a more bicycle and pedestrian friendly city."
Share this: