OTREC research leading to 100 mpg car
Posted on August 23, 2011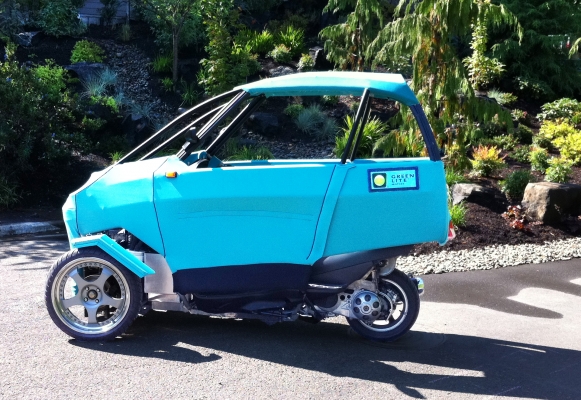 OTREC has teamed up with Portland-based Green Lite Motors to bring a 100 mile-per-gallon vehicle closer to market. OTREC researchers at the Oregon Institute of Technology will evaluate and improve the performance of the two-seat vehicle.
The project grows out of a commercialization grant from the Oregon Built Environment & Sustainable Technologies Center, or Oregon BEST. Oregon Tech researchers built a prototype model for Green Lite Motors under that grant.
"This is going to take it from a completed prototype to a refined drive system," said Tim Miller, president and CEO of Green Lite Motors. "They'll test the performance and efficiency of the hybrid drive system and we'll be able to refine the software and other things that control the system and optimize its performance."
The Oregon Tech team built a three-wheeled prototype vehicle based on the Suzuki Burgman 650 scooter platform. "It combines the best of several things," Miller said. "You get the full enclosure and safety you have in a car but with the nimbleness and ease of parking of a motorcycle."
Although researchers can adapt some of the auto industry's testing methods, others don't apply very well for such an unusual vehicle, said Oregon Tech Associate Professor James Long, the project's principal investigator. "There aren't many vehicles out there of this type, so we'll be developing test scenarios very specific to the drive train we've put together," Long said.
"It's some pretty rigorous testing and characterization of the system."
The project serves as a living laboratory for Oregon Tech graduate and undergraduate students. "They get some real-world expertise and learn the way a system like this is actually put together instead of just having an academic forum," Long said. "And it's fun; we get to collaborate on this really cool project."
The Green Lite Motors collaboration helps cement Oregon Tech's reputation as a budding center for alternative fuel technology, Long said. "I'm also involved in the Transportation Electrification Initiative, so having the Green Lite project funded opens my ability to bring students in and start developing solid programs that will stick around.
"It's the anchor that lets us take off with hybrid EVs and EVs in general."
Long is confident the team will get the vehicle performing at 100 mpg efficiency. From there, Green Lite has a good chance of making a splash in the Oregon economy and the small-vehicle market.
"We hope to have a working system Tim can take out with Green Lite Motors and get venture capital and start growing the business in a huge way," Long said.
Click here to read more about the project.
Share this: