Equitable Access to Portland's Washington Park
Posted on June 20, 2019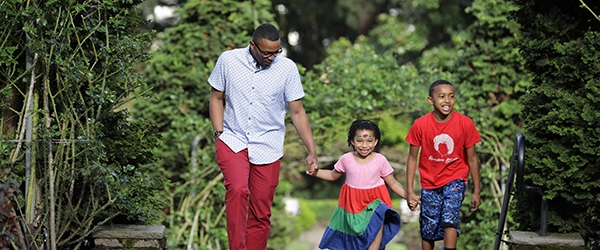 Photo by Brink Communications
---
In the latest report published by TREC, we partnered with Explore Washington Park (EWP) to better understand how to meet the needs of underserved populations in Washington Park.
EWP was formed as a Transportation Management Association and operates as a 501(c)3 non-profit with a license agreement with the City of Portland for transportation management in Portland's Washington Park and everything in it: Oregon Zoo, Portland Children's Museum, World Forestry Center, Hoyt Arboretum, Portland Japanese Garden, International Rose Test Garden and all of the park space in between. A Metro grant in 2017 provided investments to support transit to and within the park, and earlier this month Metro awarded EWP $150,000 for the Diversity, Equity and Inclusion Program.
Prepared by Marisa Zapata and Joseph Broach of Portland State University and graduate research assistants Kara Boden and Qingyang Xie, the report created an equity definition in order to have a consistent framework to apply equity programming across Washington Park venues and guide the rollout of this program.
GOALS FOR WASHINGTON PARK
The EWP board adopted a Transportation Management Plan in 2016 that outlines five 5-year targets:
Decreasing private vehicle trips to the park,
Increasing shuttle ridership,
Decreasing greenhouse gas emissions from cars driving around the park,
Increasing user satisfaction, and
Increasing the number of park visitors from underserved populations.
Since 2014, EWP has conducted intercept surveys each August that provide robust data to track the progress of our targets. However, the organization has struggled to track the number of visitors from underserved populations coming to the park.
DEFINING EQUITY AND ANALYZING DATA
To help EWP meet these goals, the researchers behind this report took four steps:
Creating an equity definition to guide EWP and TMP implementation;
Analyzing data of park visitations to assess progress of the Transportation Management Plan goals;
Suggesting methodology adjustments and options for improving data collection to support equity and transportation analysis; and
Providing recommendations for how to increase visitations to Washington Park by underserved populations.
The team gathered information from the EWP institutions about their existing equity efforts, including equity related definitions, programmatic activities, and relevant data. They also incorporated region-wide data on race, income, and transit service to better understand how current visitors reflect Portland area populations of interest and whether and where transit access might present either a barrier or opportunity for increased visitorship.
KEY FINDINGS
People of color (POC) are under-represented among visitors coming from within the Portland region, but the trend has been improving 2014-2017.
POC visit the park from areas about the same distance away on average as white visitors in the region; however, there are considerable differences in the distributions of regional visitors by group.
Lower-income areas in the region have lower rates of park visits than expected visitors, even after controlling for proximity.
There's been a significant reduction in personal auto use by park visitors, and a significant increase in transit use since 2014.
Transit access to the park is challenging, but there are promising areas of overlap where lower-income and high POC areas have reasonable transit service to the park.
Those POC who do visit the park use it somewhat differently, including visiting more (and more free entrance) attractions and also using the park shuttle at higher rates.
More insights can be found in the final report (download PDF). Future analysis might consider other aspects of equity such as age, ability, and household or individual-level resources and preferences. Additionally, future research will aim to gather data from those not currently visiting the park, or not visiting as often as they would like—especially for traditionally underserved groups in the region.
ABOUT THE PARTNERS
Explore Washington Park helps people make decisions about how they get to and around Washington Park in Portland, Oregon., and ensure that they have what they need for a fun, enjoyable visit. Explore Washington Park was formed as a Transportation Management Association and operates as a 501(c)3 non-profit with a license agreement with the City of Portland for transportation management in the park.
The Transportation Research and Education Center (TREC) at Portland State University is home to the National Institute for Transportation and Communities (NITC), the Initiative for Bicycle and Pedestrian Innovation (IBPI), and other transportation programs. TREC produces research and tools for transportation decision makers, develops K-12 curriculum to expand the diversity and capacity of the workforce, and engages students and professionals through education.
LEARN MORE ABOUT EQUITY IN REPRESENTATION AT TCS 2019
Examining data involving communities of color, environmental justice populations and other underrepresented people is a crucial step toward creating equitable policy. A breakout session at this year's Transportation and Communities Summit in September will explore issues around data collection and interpretation as it relates to social justice. Early bird registration for the conference ends July 15. Learn more about the session: Fair and Accurate Data: Equity-informed Approach to Representation.
Share this: