Eugene area prepares for electric vehicles on a large scale
Posted on April 7, 2011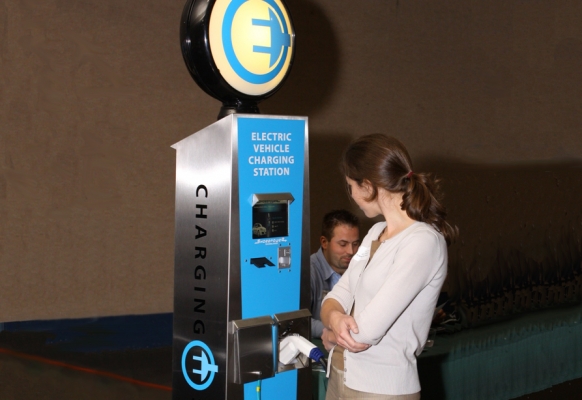 By 2020, the Eugene-Springfield area could have 15,000 electric vehicles on the road. In March, regional leaders took a big step toward making sure their communities will be ready.
The Eugene Water and Electric Board (EWEB), University of Oregon's Community Service Center and the city of Eugene hosted a forum March 30 to discuss the future of electric vehicles. A culmination of a yearlong OTREC-funded project to assess the implications of electric vehicles, the forum identified and analyzed key issues and opportunities for Eugene-Springfield.The event brought together over 30 invited representatives of the city of Eugene, Lane County, local industry and other interested partners to hear three perspectives on the issue.
Speaking at the event were:
George Beard, Portland State University, Office of Research & Strategic Partnerships
Art James, Oregon Department of Transportation, Office of Innovation, Project Director, Oregon EV Initiative
Bob Parker, University of Oregon, Community Service Center
The forum covered key industry developments and regional initiatives, and offered insights into potential impacts to local agencies and potential consumers. EWEB and the City of Eugene are planning for the infrastructure to support the charging of between 12,000 and 15,000 electric vehicles.
In a few months, the city of Eugene hopes to have several public electric car charging stations installed.  EWEB and the City are partners in the ECOtality's EVProject, a federally funded electric vehicle deployment project. The goal of the project is to deploy EV charging stations and analyze the use of the stations to guide widespread adoption throughout the country. ECOtality is partnering with Nissan North America to deploy approximately 900 Nissan Leaf electric vehicles, 1,000 Level 2 public charging stations and 45 DC fast-charging stations in Oregon. Deployment of the Nissan Leaf started in February and public charging infrastructure installations are expected to begin in this May. 
For more information about electric vehicles and the partners' activities are available at EWEB, Eugene Parking Services, and the University of Oregon's Community Service Center. The final report for the project will be posted here on the OTREC site and the CSC site when available.
Share this: