EV Roadmap 6 expands electric vehicle awareness
Posted on August 14, 2013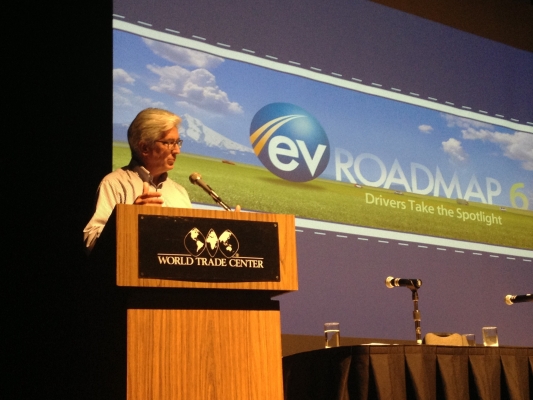 John MacArthur, OTREC's Sustainable Transportation Program Manager, was a panel moderator at this year's EVRoadmap 6 workshop.
The EV Roadmap workshop series has established itself as the Pacific Northwest's premier electric vehicle gathering, with a goal of increasing the visibility and understanding of electric vehicles.
Co-sponsored by Portland General Electric and Portland State University, the event supports the shared goal of building a stronger, more sustainable transportation landscape.
The sixth annual EV Roadmap workshop, "Drivers Take the Spotlight," was a continuation of this fruitful partnership. The event was held at the World Trade Center in Portland on July 30-31, 2013. MacArthur moderated a panel titled "Not All Drivers Need Four Wheels." This panel focused on odd-sized electric vehicles such as e-bikes.
E-bikes are a specialty of MacArthur's; he has conducted several research studies about people's use and perceptions of the electric-assisted bicycle. His project "Evaluation of Electric Bike Use in Portland Metro Region" (click here for more information about that project, or to download the final report) focused on exploring the potential new market segments for e-bikes and the economic, operational, safety, and transportation issues surrounding them.
The session afforded MacArthur an opportunity to discuss the value and potential uses of these alternative electric vehicles with panelists Bob Van Der Woude (President of Conscious Commuter), Mark Frohnmayer (President of Arcimoto), and Greg Lemhouse (Director of Global Fleet Development at Brammo).
MacArthur also moderated the "Improving Payment Networks" session, with panelists Jordan Ramer (EVConnect CEO) and Dexter Turner (OpConnect, LLC President and CEO).
Green Car Reports Senior Editor John Voelcker, and Phil Ditzler, Federal Highway Administration Oregon Division Manager, both gave the keynote presentations and pointed to Oregon leadership.
EVRoadmap 6 also featured a live focus group of existing EV drivers put on by Davis, Hibbitts & Midghall. These drivers were candid about their experience as EV drivers and answered audience-sourced questions regarding vehicle safety, performance and infrastructure.
Click below to see photos from the event:
EV Roadmap 6 Facebook Photo Album
Share this: