Forum spotlights links between transportation and affordable housing
Posted on October 8, 2010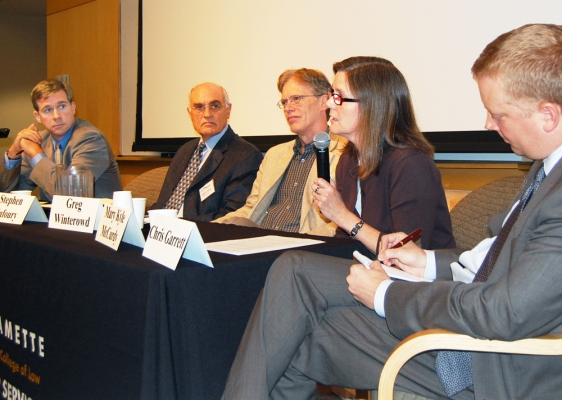 A daylong conference Thursday in Salem focused on the ties between transportation and affordable housing. While not sponsored by OTREC, the conference dovetails with an OTREC theme, the intersection of land use and transportation.
Called "The Road Home: The Intersection of Transportation and Affordable Housing," the conference was sponsored by Housing Land Advocates, AARP and the Willamette University College of Law. Speakers tackled topics including transit-oriented development, land-use and transportation policies that spur the development of affordable housing, transportation agencies' civil rights obligations and climate change.
Although much of the discussion revolved around metro areas, one panel also addressed rural concerns. Sometimes simple solutions for small-town problems get overlooked, said panelist Travis Brouwer, senior federal affairs advisor with the Oregon Department of Transportation. Improving a local trail system can allow town residents to run errands without needing a personal vehicle, Brouwer said. Adding at least occasional bus service to the nearest large town can help residents go car-free, said Mary Kyle McCurdy, staff attorney for advocacy group 1000 Friends of Oregon.
The conference follows the creation of the Partnership for Sustainable Communities. In July, OTREC held the West's first listening session under the partnership, an effort to get the federal Transportation and Housing and Urban Development departtments and the Environmental Protection Agency working together on green transportation and affordable housing projects.
Share this: