High school innovators develop smart bike parking app
Posted on April 13, 2015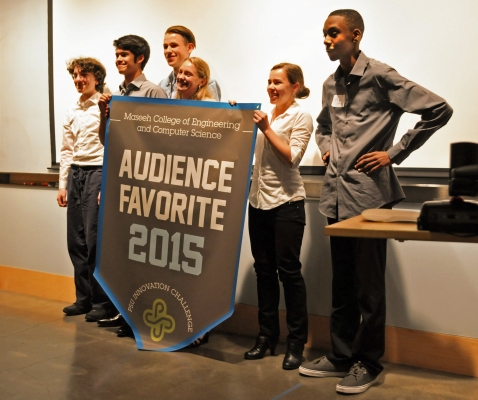 After meeting with TREC researchers earlier this year, a team of students from Grant High School in Portland, Oregon developed a mobile app that uses real-time data to help cyclists find available bike parking, and took three awards in Portland State University's High School Innovation Challenge.
The app, which senses the presence or absence of a bicycle's tire with a logic box located at the bike rack, could also be used to notify owners if their bicycle is removed (i.e. stolen) when they are not present.
Saturday, April 11 was the third annual High School Innovation Challenge, a STEM competition sponsored by the Maseeh College of Engineering and Computer Science at PSU.
Read the Oregonian's coverage of the event here.
The Grant team won the awards for Best Presentation, Best Technology Focus, and Audience Favorite, making them the only team entered in the 2015 challenge to receive more than one award.
Team members Cory Koehler, Aubrey Masten, Konon Phillips, Richard Smith, Sarah St. Clair and Alex Taylor met with TREC researchers in mid-February for a tour and explanations of the technology behind transportation systems.
Afterward, they worked with Portland State University student mentors Ke'Liilah Vara and Barbara Acevedo to come up with the scope and direction of their project.
To encourage cycling, they wanted to give bicyclists a way to find bike parking near their destinations. They developed a cost-effective hardware prototype using a Raspberry Pi computer and an Arduino sensor board.
"We had a lot of ideas in the beginning about where we wanted to take the application, and we still want to follow up on those ideas," Aubrey Masten said in the presentation.
"Some of the functionalities that we've explored are an increased amount of data on every individual spot… We'd also like to use all of this data that we've collected—how popular the spot is, where people are requesting spots—and provide that information to city planning for the development of bike parking locations," Masten said.
Part of the team's presentation included a live demonstration of the app in which Richard Smith, the team member who led the development of the hardware prototype, placed a bike tire in front of a logic box and let the audience see the online status change immediately from "vacant" to "occupied."
"We would like to implement this at our school and provide it as a proof of concept," Smith said.
A team from Lincoln High School also focused on cycling in Portland, winning the Strongest Concept award with their design of an improved anti-theft bike lock and rack system which protects wheels, seat and frame.
The High School Innovation Challenge has a different theme every year. This year's theme was "Smart Cities: Making Our Urban Communities Safer, Healthier and Happier." Other teams focused on a range of topics including technology-focused methods for collecting and purifying rainwater, improving drainage systems, and optimizing the efficiency of street lights.
The contest judges were Shu-ling Garver, recently retired as a senior engineer at Intel Corporation; Michelle Rowley, a Senior Software Engineer at MobilePaks; Matt Jones, head of Future Infotainment at Jaguar Land Rover; John Thompson, a ZGF design principal; and Michael Armstrong, the Policy, Research and Innovation Manager for the City of Portland Bureau of Planning and Sustainability.
Share this: