Higher Speed Limits Lead to Increase in Serious Crashes in Eastern Oregon
Posted on February 20, 2019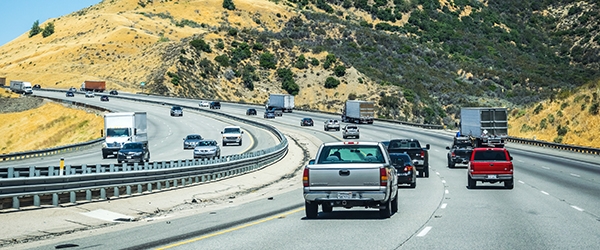 Learn more about this research by viewing the full Final Report on the Project Overview page.
---
A new report by Christopher Monsere and Sirisha Kothuri, researchers in Portland State University's department of civil and environmental engineering, found a direct correlation between increased speed limits and an increase in serious crashes in Eastern Oregon. The Oregon Department of Transportation (ODOT) funded the study examining issues related to changes in posted speed limits.
Speed limits on approximately 1,400 miles of highways and interstates in Eastern Oregon were increased by the Oregon legislature effective March 1, 2016. Using four years of data, Monsere, Kothuri and researcher Jason Anderson examined speeds in relation to crash frequency and severity from the year after the speed limits increased compared with the three previous years. On sections where the speed limit was raised to 65 mph for trucks (primarily the interstates), truck-involved crashes more than doubled.
In response to this study, ODOT is already taking some safety measures after PSU's analysis. Learn more in the East Oregonian's coverage of the research, or download the final report.
RELATED RESEARCH
To learn more about this and other NITC research, sign up for our monthly research newsletter.
The Transportation Research and Education Center (TREC) at Portland State University is home to the National Institute for Transportation and Communities (NITC), the Initiative for Bicycle and Pedestrian Innovation (IBPI), and other transportation programs. TREC produces research and tools for transportation decision makers, develops K-12 curriculum to expand the diversity and capacity of the workforce, and engages students and young professionals through education.
Share this: