PSU Masters Student Nick Meusch Receives APTF Board Scholarship
Posted on September 15, 2021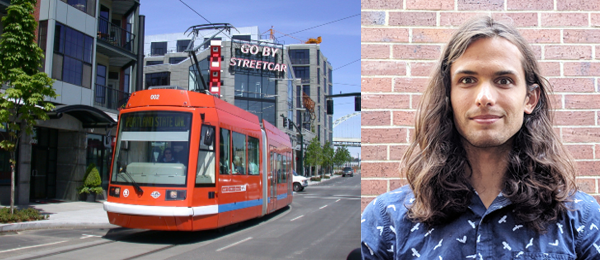 We are proud to congratulate Portland State University masters student Nicholas Meusch, who has been awarded a scholarship by the American Public Transportation Foundation (APTF) Board of Directors, with a nomination endorsed by TriMet. APTF scholarships are aimed to help with tuition, books, educational materials and other expenses for students who show interest in the public transportation industry as a career, as well as high academic achievement and involvement in extracurricular citizenship and leadership activities.
Nick, a second-year student in the Master of Urban and Regional Planning (MURP) program at PSU, currently works as a proposal manager for Elcon Associates, a minority-owned, electrical and systems engineering firm that performs consulting services for transit agencies operating rail transit systems (including TriMet and the Portland Streetcar).
Nick was selected by Dr. Aaron Golub as one of two PSU graduate nominees for the 2020 American Planning Association Transportation Planning Division student paper competition, with a paper on the topic of brownfield conversions of private gasoline fueling stations to drive-through electric vehicle fast charging stations. As zero-emission vehicles (ZEVs) require a greater demand of power from electric utilities, Nick hopes to serve as a liaison between electric utilities and public transportation agencies to plan for upcoming service demands with the mass introduction of battery electric buses.
In addition to vehicle electrification, Nick is interested in supporting equitable shared micromobility.
Nick will be celebrated along with the other 2021 scholars during the American Public Transportation Association's TRANSform Conference and EXPO, which takes place November 7–10, 2021, and will also be eligible to take part in the APTF Mentoring Program to continue to promote equitable and sustainable transportation for everyone.
See other past PSU recipients of various transportation scholarships on our scholars page.
The Transportation Research and Education Center (TREC) at Portland State University is home to the National Institute for Transportation and Communities (NITC), the Initiative for Bicycle and Pedestrian Innovation (IBPI), and other transportation programs. TREC produces research and tools for transportation decision makers, develops K-12 curriculum to expand the diversity and capacity of the workforce, and engages students and professionals through education.
Share this: