Modeling collaborative forum builds ties, offers guidance to policymakers
Posted on May 19, 2011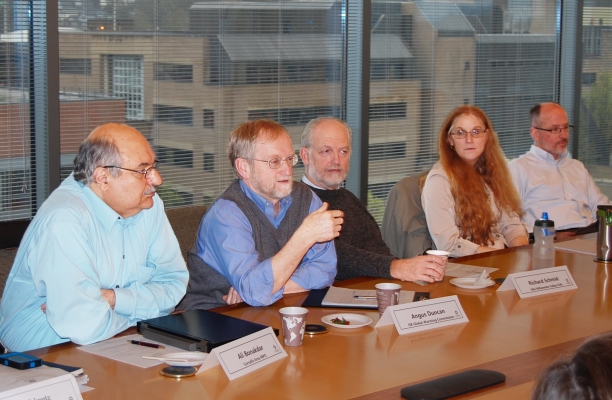 Even as complex visual representations of data become common, many people still don't understand what land-use and transportation modelers do. In April, state and local planning directors met to address that and other issues they'll increasingly face in the coming years. The Oregon Modeling Collaborative convened the Oregon Transportation Policy Forum for guidance in developing the tools agencies will need and to keep agencies talking about transportation issues.
Giving a complex topic such as global warming the video game treatment could make it easier to grasp, said Angus Duncan of the Oregon Global Warming Commission. "I have yearned for something that's the greenhouse gas equivalent of a 'Sim City,' " Duncan said at the forum. "Something simple enough that kids can play with it, but something you can use for communication."
Developers have gotten much better at representing data, said Tom Schwetz, director of development services for Lane Transit District, but leaps in handheld devices such as iPhones have raised expectations still higher. Transportation models are getting more complex and, at the same time, people are demanding their information quicker and quicker.
Modelers struggle, Schwetz said, both because people don't understand the complexity of the models and because modelers themselves don't explain themselves clearly. The models then become easier to attack than to defend. "There is a credibility issue," he said. "It's too easy to criticize because if you get into responding to the criticism, it's a big complex issue."
Ambitious land-use models could help planners demonstrate the long-term effects of decisions, said Jerri Bohard, the Oregon Department of Transportation's interim deputy director of operations, but current models don't go that far. "We don't have a good way to visualize what the community will look like 20 years from now," Bohard said.
As a result, developers and other may not see how they fit into the community. "People are only interested in the traffic situation, the congestion today," Bohard said. "They don't see their connectedness to the rest of the system."
Participants in the forum expressed their desire to have more frequent conversations, perhaps through a yearly face-to-face meeting as well as electronic communication. The Oregon Modeling Collaborative hopes to hold the forum each year. Issues raised at this forum will be summarized and posted on the collaborative's website.
The Oregon Modeling Collaborative is one of three OTREC initiatives designed to increase research and education capacity in key topic areas. The collaborative brings together experts from the four OTREC campuses, public agencies and private consultants to develop the modeling and analytical tools needed for a sustainable transportation system.
Share this: