NITC research shines at major national transportation conference
Posted on January 3, 2017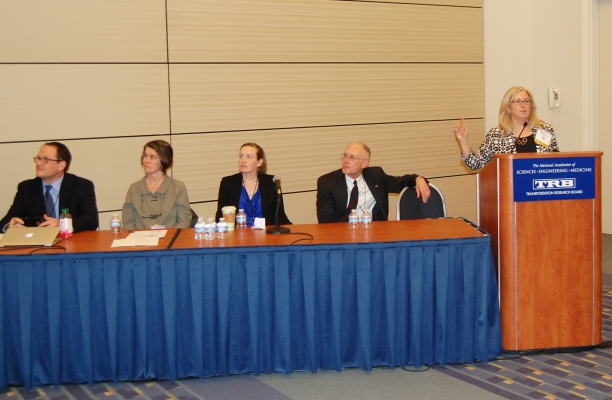 Note: This page serves as a home page for our coverage of the TRB conference. Please bookmark this page for feature stories and updates. Follow us on Twitter and Facebook for more.
Feature stories
Attending the conference?
Fresh off its selection as a national university transportation center, the National Institute for Transportation and Communities, or NITC, program brings its research to the annual meeting of the Transportation Research Board of the National Academies Jan. 7-12. The conference, the nation's largest and most influential on transportation research, brings together 12,000 people each year in Washington, D.C.

Nearly 100 researchers from NITC program campuses contributed to 114 papers accepted for presentation at the conference, in 34 lectern presentations, 69 posters and 11 workshops. NITC staff and researchers will also preside over 10 committee meetings at the conference.
NITC, a program of TREC at Portland State University, also includes the University of Oregon, Oregon Tech, the University of Utah and the University of Florida. The NITC program will soon add two new campuses into its consortium.

Of papers accepted for presentation at the TRB conference, 32 had a lead author from Portland State, five more than last year's conference. University of Utah had 28 lead-authored papers; University of South Florida, 15; and University of Oregon, 1.

Portland State students continue their impressive showing on the national stage, contributing to 31 papers being presented, 13 of those as a lead author. Twenty Portland State students are attending the conference with NITC support.

Oregon Tech also has a strong presence at the conference, sending faculty along with six students affiliated with the NITC program through research assistantships or scholarships. Seven University of Utah students will attend with NITC suport.

The 96th TRB annual meeting takes place at the Walter E. Washington Convention Center in Washington, D.C.
Share this: