Oregon State ITE chapter takes regional honor
Posted on November 1, 2011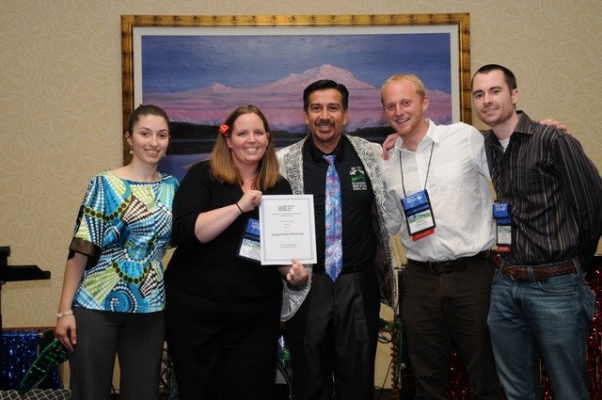 Oregon State University's student ITE chapter is the reigning Western District ITE chapter after taking the Student Chapter Award at the district's annual meeting in Anchorage, Alaska. The award honors the outstanding chapter for the entire 13-state region, which encompasses 34 student chapters.
The award marks a quick turnaround for a chapter that was dormant a few years ago. Faculty adviser Karen Dixon restarted the chapter when she arrived at Oregon State in 2005. "Another professor, David Hurwitz, came from an active chapter and shared insights he had as a student," Dixon said. "That helped give us that push."
Applying for the honor requires a thorough accounting of all the chapter's activities, Dixon said. "You have to document every tiny thing."
And having a lot to document was one of the reasons Oregon State won the award, said student chapter President Lacy Brown. "We did a lot of activities out in the community," Brown said. "A lot of outreach to other students on campus who weren't necessarily in our chapter."
The chapter brought in speakers from private consultants and public agencies, took field trips across the state and attended conferences in the Northwest and beyond, including the Transportation Research Board Annual Meeting. It also hosted unconventional events such as movie nights, participated in volunteer activities and had a presence at other events, such as the local triathlon.
With 40 active members, the Oregon State chapter is bigger than some others, Brown said. The membership includes both undergraduate and graduate students, Dixon said, unlike some student chapters that are only open to graduate students.
"It pulls in a larger pool of transportation-interested students that we might have otherwise," Dixon said.
Oregon State sent four students and Hurwitz to the Western District annual meeting, where the award was announced this summer. And while the chapter didn't replicate its regional honor at the national stage, that goal is within reach, Dixon said. It starts with repeating as national chapter next year.
"I hope that our application gets stronger and stronger," she said. "I hope we win national chapter in the future."
Share this: