Portland State Civil Engineering Student Mike McQueen Awarded YPT National Streetlight Graduate Fellowship
Posted on April 15, 2019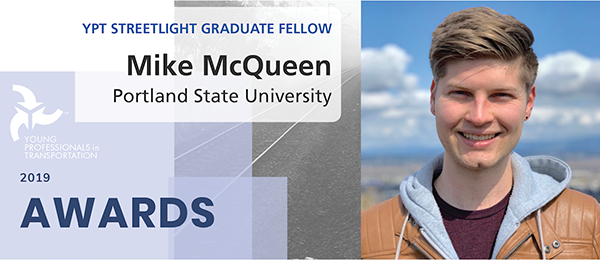 The Maseeh College of Engineering & Computer Science department of Civil and Environmental Engineering is pleased to announce that Mike McQueen, a first year master's student studying transportation, has been awarded the Young Professionals in Transportation StreetLight Graduate Fellowship. He was also one of seven Portland State University students to be awarded an Eisenhower Fellowship at this year's annual meeting of the Transportation Research Board.
Young Professionals in Transportation (YPT) is an international nonprofit coalition of organizations which helps provide professional development, fellowship, and networking for young professionals in the transportation field. This is the first year that YPT has offered the Graduate Fellowship award, thanks to a partnership with StreetLight Data, a transportation analytics firm. Mike was selected from an international pool of applicants.
The award includes a plaque, one year of YPT membership, a monetary scholarship, and one month of access to StreetLight Insight. Insight is a platform that transforms anonymous, archival location data derived from millions of mobile devices into useful metrics that describe travel patterns. Mike plans to use the StreetLight Insight to assist his research endeavors.
Mike's research interests include e-bikes, bike share, and first mile/last mile travel behavior.
The Transportation Research and Education Center (TREC) at Portland State University is home to the National Institute for Transportation and Communities (NITC), the Initiative for Bicycle and Pedestrian Innovation (IBPI), and other transportation programs. TREC produces research and tools for transportation decision makers, develops K-12 curriculum to expand the diversity and capacity of the workforce, and engages students and young professionals through education.
Share this: