Portland State student wins top modeling presentation award at TRB
Posted on January 20, 2017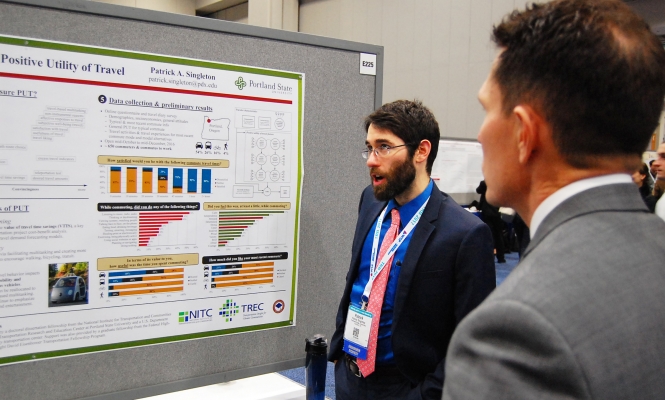 Portland State doctoral student Patrick Singleton won the best presentation award for the Doctoral Research in Transport Modeling and Traveler Behavior session of the Transportation Research Board annual meeting in Washington, D.C. This marks the second year running that a Portland State student has won the award, after Steven Gehrke won in 2016.

Singleton presented "Exploring the Positive Utility of Travel and Mode Choice," drawn from his dissertation research. Positive utility of travel is a concept that travel can provide benefits and be motivated by factors beyond reaching a destination.

The award will be formally presented during the Network Modeling Committee meeting at next year's Transportation Research Board conference.

Singleton continues to rack up awards. He has been named the NITC university transportation center student of the year and has received Eno and Eisenhower fellowships, being named the top-ranked Eisenhower recipient at the 2015 TRB annual meeting. He was also named a NITC dissertation fellow in 2016.

He is a doctoral student in the Civil and Environmental Engineering department and is involved in several TREC research projects. His adviser is Prof. Kelly Clifton.
Read more of our TRB coverage.
Share this: