PSU student team takes 2nd in Cornell Cup with traffic safety device
Posted on May 13, 2014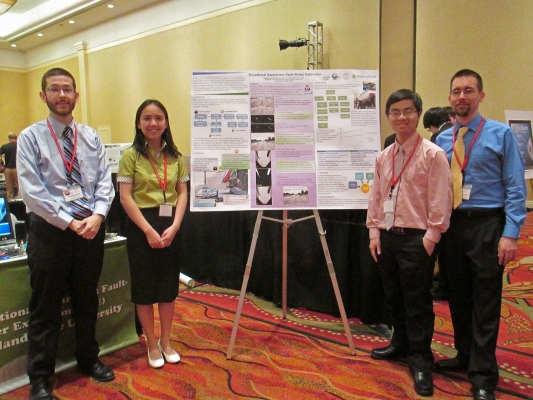 A team of students from Portland State University took second place this week in the
Cornell Cup USA
, with a traffic hazard predictor called SAFE.
SAFE, or Situational Awareness Fault?Finder Extension, is an intelligent device that could be used with bicycles, motorcycles, or automobiles, though it was created with the safety of two-wheeled travelers in mind.
The device is designed to enhance a vehicle operator's situational awareness. It tracks the movement of vehicles behind the user, monitoring their position, velocity, and acceleration.
The SAFE creators considered giving the user an overhead representation of the surrounding traffic, with color-coded alerts to signify approaching danger, but felt that that might be too distracting. Citing research that showed that people react more quickly to audio than visual cues, they decided to give the user feedback through stereo audio. 
The device sends a periodic beep to alert the user of impending accidents from the rear. It modulates the stereo, tempo, and amplitude to indicate direction and danger. For example, if a vehicle is passing to the left at a very high differential speed, the device would beep softly in the left ear. If there is an imminent rear collision, it would beep more loudly, at a quicker tempo, in both ears.
Team members Nikolas Davis, Matthew Stehr, Tuan Hoang, and Cuc Duong traveled to the Walt Disney World Resort in Lake Buena Vista, Fla., where they showcased their invention and checked out other students' projects in an Expo-style event.
Among their competition was another team from PSU's Electrical & Computer Engineering department, who also made it to the finals.
Truong Pham, Tuan Nguyen, Phuc Nguyen, Thanh Nguyen, and Thuy Tran earned a spot in the final 33 teams of the Cup with their embedded systems device, FSAT. 
FSAT, or Fitness Self-Assessment Tool, provides feedback similar to a personal trainer by analyzing body angles through captured video.
Making it to the finals was quite an accomplishment; competition in the Cornell Cup is fierce. "I was very humbled by our competition, especially our PSU sister team FSAT. They are exceptional engineers and deserve as much recognition as we do," SAFE team member Nikolas Davis said.
For Davis, the greatest takeaway from all this was the experience itself. "There was the air of a really innovative event. The examples vary wildly: a company flew in a crazy, new coffee machine prototype, which us engineering students of course opened up to peek inside. Cornell students built a Star Wars C3PO robot whose head and vision could be controlled through an Oculus Rift -- a virtual reality headset.
We had a chance to listen to a motivating speech by Young Guru, the producer of most of Jay-Z's records. It was really just an event focused on appreciating and soaking in our love of engineering. Also, there's nothing quite like actually holding a giant check!"
"The bottom line is that this was an event designed to encourage young engineers to risk failure in order to be creative. With grades being so important for students, creativity is quashed. Motivating students to take chances and experiment more with rigorous ideas will be a great source of future innovation," Davis said.
Mark Faust, an assistant professor in the department of electrical & computer engineering at PSU, traveled to the event as an advisor to the students along with another PSU professor, Marek Perkowski. 
"The students put in a phenomenal amount of work and preparation," Faust said. He has run the department's capstone course for the past eleven years, says that the amount of work students put into their Cornell Cup projects is roughly twice the amount of work it takes for an average capstone project, and that it was great to see the students get recognition for it.
This was Faust's second time attending the competition. He accompanied another PSU team to the inaugural Cornell Cup in 2011, which took first place with a
Prescription Drug Identification Device
. 
"To do well in the Cup you really have to have a combination of a good project, well executed and not trivial, but you also have to do a pretty good job of explaining it," Faust said. Entrants not only demo their project to a panel of judges, but they must do it in a fixed amount of time; an otherwise successful project might be bypassed if the presentation isn't succinct and clear.
"One of the beautiful things about the contest is that for two days you're demoing and discussing your project to anyone who stops by your table. So it's not just the judges but other teams and faculty as well… the whole event is set up to celebrate this notion of innovation in engineering," Faust said.
The Cornell Cup USA, presented by Intel and hosted by Cornell University, is an annual college-level embedded design competition. The contest was created to empower student teams to become the inventors of the newest innovative applications of
embedded technology
.
Share this: