Student Spotlight: Frank Boateng Appiah, Portland State University
Posted on September 2, 2020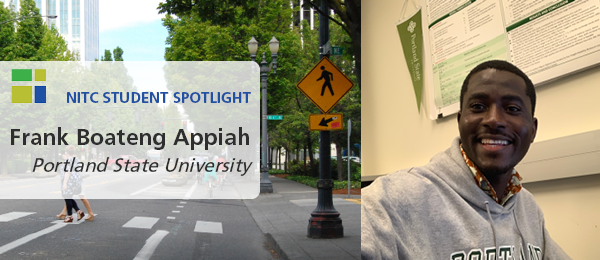 Frank Boateng Appiah is a graduate student and research assistant in civil engineering at Portland State University, working with Chris Monsere and Sirisha Kothuri on best practices for the installation of
Rapid Rectangular Flash Beacons with or without Median Refuge
. He graduated from Kwame Nkrumah University of Science and Technology with Bsc. Civil Engineering in 2013. Frank is interested in how transportation improves life by increasing productivity, efficiency and other aspects of mobility.
---
Tell us about yourself?
I come from a small town in Ghana called Adamsu but spent most of my formative years in Accra, the capital city. Living in Accra, a city where road transport has been the primary mode for several decades, I came to appreciate how a disintegrated transportation system affects a nation's economic growth and therefore requires effective and efficient planning and design to increase productivity. This informed my decision to read civil engineering during my 4-year undergraduate study at Kwame Nkrumah University of Science and technology. At Tech I was much involved in student groups such as CESA (Civil Engineering Students Association), where I held some leadership positions. In PSU I am an active member of STEP (Students in Transportation Engineering and Planning). Outside of school I like watching European soccer and sometimes listen to messages by famous men of God.
What (or who) has influenced your career path in transportation?
My path to a transportation career was influenced by Ing. Kwabena Bempong, who drafted me into a team that worked on a Bus Rapid Transit project when I joined Associated Consultants Limited as an intern during my third year in my undergraduate studies. The increasing dependence on private cars and taxis for most trips in Accra had resulted in a congested city. The project sought to plan and develop alternative modes of transport to ease the congestion on our roads and effectively create an integrated system that would be more reliable. I learned a lot of new ideas from conceptual planning to design. I had the opportunity to explore some design concepts using AutoCad Civil 3D. When I returned to school, I took more transportation courses in my final year to get some indepth knowledge about the program.
Tell us about your research?
Recently, I worked with Dr. Sirisha Kothuri and Dr. Chris Monsere on a paper that I submitted to the Transportation Research Board for the 2021 annual conference. The paper presented the results of a study on "Driver Yielding and Pedestrian Performance at Midblock Crossings on Three-lane Roadways with Rectangular Rapid Beacons." RRFBs have proven to be a useful tool for improving driver yielding and safety of pedestrians at midblock crossings. The research analyzed driver yielding at 23 RRFB-enhanced midblock crossings on three-lane roadways with and without median refuge islands in Oregon. 276 hours of video footage was analyzed, resulting in 3,065 crossing events (1,338 staged; 1,727 naturalistic) undertaken by 3,683 pedestrians. High yielding rates were observed—the average nearside yielding rate was 97%, with the lowest site having a rate of 89.9%. Yielding rates were generally higher on the farside. The data analyzed also suggest that, generally, the yielding rates increase with the addition of the median beacons.
After graduation, what future work do you envision doing in transportation?
After graduation, I see myself working as a transportation engineer in one of the best civil engineering firms here in the US. My desire to be adventurous in the transportation field inspires me to search for a reputable company where I can develop cutting-edge skills to solve dynamic problems, and develop into a fully fledged transportation engineer.
This is an installment in a series of monthly Student Spotlights we're shining on students and alumni that are involved with National Institute for Transportation & Communites (NITC) universities. NITC is a university transportation consortium funded by the U.S. DOT, and is a Portland State-led partnership with the University of Oregon, Oregon Institute of Technology, University of Utah, University of Arizona, and University of Texas at Arlington.
Share this: