Tiny TREC takes research to the (very small) streets
Posted on May 29, 2015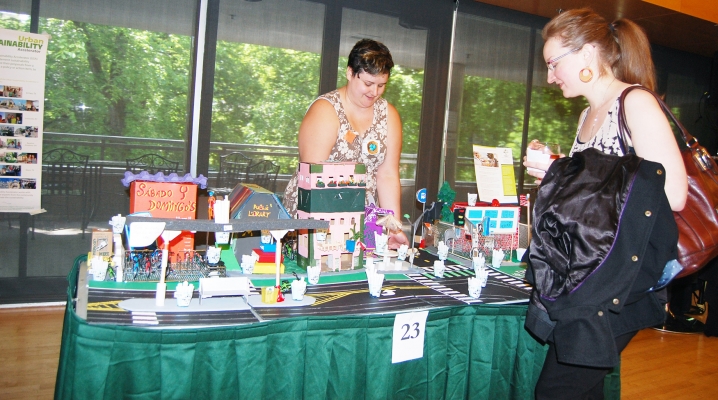 At TREC, we like to think of the streets of our community as our living laboratory. That laboratory doesn't fit neatly in a ballroom such as the one that hosted the Portland State University Sustainability Celebration May 28.
Fortunately, TREC Communications Coordinator Lacey Friedly had a solution: if we can't take people on a tour of town, we'll take the town to the people. Friedly set to work building Tiny TREC, an interactive display showing 24 TREC research efforts in context. Visitors took small scrolls of paper that described research projects and linked to web pages and full-sized project briefs.
Have a look around town. Mind the bicycle-specific signal on your way in:
Learn about transit-oriented development in Latino immigrant communities:
Find out about transit performance and electric bicycles while you wait for the train, and learn what happens to traffic in your town when a light rail line goes in:
What do you have to do to get that walk signal? Read all about signal timing while you wait:
You'll enjoy a protected bike lane and a bike box ...
as you make your way over to a food cart, where you'll surely want to consider the shopping power of all the Tiny Town residents arriving by different travel modes.
The town, which took Friedly three weeks to build, lives on in the TREC conference room. Stop by our offices or email asktrec@pdx.edu for your personal tour.
Share this: