Portland State seniors transform Naito Parkway into cycling- and walking-friendly throughway for Rose Festival
Posted on May 19, 2015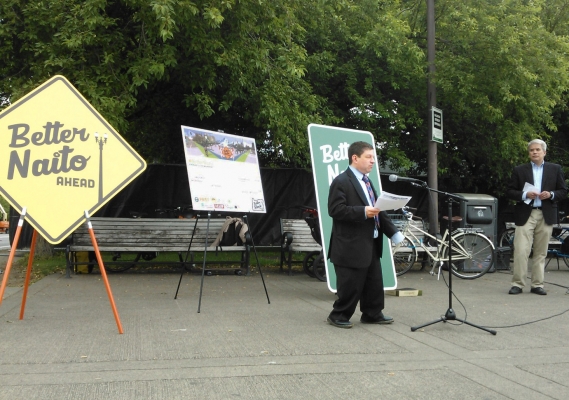 Portland State University today announced that the city of Portland will implement a student design to make one of downtown Portland's busiest roads safer and more accessible to multimodal traffic.
The "Naito Pilot Project" is a civil engineering senior capstone sponsored by Better Block PDX, the local chapter of a national organization committed to the revitalization of urban spaces. The objective of the project is to increase access for pedestrians and bicycles without disrupting vehicle traffic.
Naito Parkway, a 3.1 mile stretch of arterial road, runs along the west bank of the Willamette River and is the subject of mounting safety concerns. Sidewalks on the east side of the street are not continuous for large stretches and bicycle lanes start and end abruptly. Such issues are exacerbated when large crowds are drawn to the waterfront for events.
"Our city engineers were impressed by the level of quality that the university's students produced in their traffic control plan," said Portland City Commissioner Steve Novick, who publicly announced plans to implement the Naito Pilot Project at a press conference today. "I am proud that Portland State University is teaching its engineering students the value of utilizing their skills to create public space, improve safety, and engineer an environment conducive to better health." 
The temporary demonstration is set to run from May 22 to June 5, coinciding with the Portland Rose Festival. The Naito Pilot Project site will span a 0.6 mile stretch of roadway from Southwest Salmon Street to Northwest Couch Street. 
"As students, we never anticipated that so many different groups in the community would take an interest in something we worked on," said Gwen Shaw, a senior civil engineering student and leader of the capstone team. "It's an extremely satisfying feeling knowing that something we put so much work and time into has the potential to make a real difference for the people of Portland."
Portland State is nationally recognized for its community engagement learning model. Through its Senior Capstone program, student teams partner with local organizations to tackle civic challenges. Participation in a senior capstone project is a graduation requirement for all PSU undergraduate students.
The University is also home to Transportation Research and Education Center (TREC), which has long worked to evaluate the city's transportation innovations. TREC, and its multimodal transportation data archive Portal, will support data collection and analysis from the pilot project.
"The city, with its willingness to try new approaches to make walking and cycling safer and more frequent, makes an ideal research partner," said TREC Director Jennifer Dill. "We get to study these treatments in the real world and they get the scientific basis to evaluate the success of their efforts," Dill said.
While there is no commitment to any design changes to the roadway when the pilot project ends, the city will examine the results closely.
"If officials decide to pursue permanent changes to Naito, they'll have the data to support their decision," Dill said.
Implementation of the pilot project is made possible with support from the City of Portland, Portland Bureau of Transportation, Better Block PDX, People for Bikes, Oregon Walks, AARP, METRO, CLIF Bar and the Portland Rose Festival.  
Links:
Share this: