Today at TRB: Monday
Posted on January 10, 2015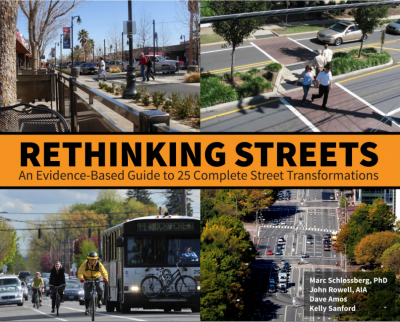 Monday, Jan. 12 marks the first day of lectern and poster presentations at the annual meeting of the Transportation Resarch Board in Washington, D.C. It's also the busiest day for researchers representing the National Institute for Transportation and Communities' member campuses.
Marc Schlossberg leads a team from the University of Oregon presenting the NITC project "Rethinking Streets: Evidence-Based Guide to 25 Complete Street Transformations." The presentation highlights the book of the same name, which uses evidence from completed street projects from around the United States in order to help communities imagine alternative futures for their streets. You can watch a NITC Webinar on the topic or learn more. The lectern presentation at TRB starts at 3:45 p.m. (all times eastern) in room 209A of the convention center.
Reid Ewing of the University of Utah presents on the NITC project "Effects of Light-Rail Transit on Traffic in a Travel Corridor." The analysis found that, after the opening of a Salt Lake City light-rail line, traffic on an adjacent arterial dropped by a number equal to the increase in transit ridership and traffic on parallel streets. The traffic drop occurred even as development boomed in the area.  The lectern presentation begins at 10:15 a.m. in room 103A.
John MacArthur of Portland State University presents the TREC research "Regulation of E-bikes in the United States: Policy Review." The research represents a significant first step in developing a logical, practical approach to legally defining this mode of transportation and the safety precautions that should accompany it. Read more about the research. MacArthur presents in a poster session at 7:30 p.m. in Hall E.
Victoria Perk of the University of South Florida presents at a 10:45 a.m. poster session. The research, "Transit Bus Safety in the United States: Analysis Using National Transit Database," found that more than 55 percent of the sampled incidents resulted from actions of other vehicle drivers. The session is in Hall E.
A complete listing of NITC-affiliated presentations is on the NITC Guide to TRB.
Read more coverage of our research on our main TRB page.
Share this: