TREC intern profile: Jolene Liu
Posted on November 26, 2014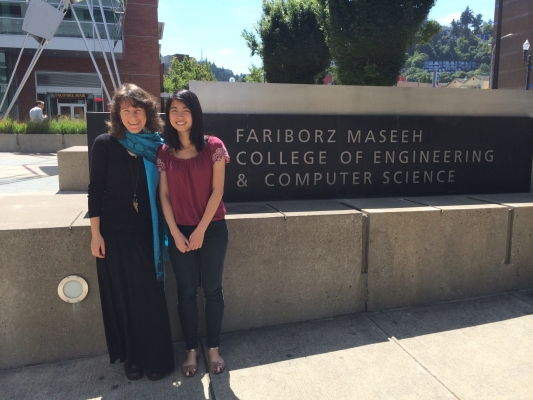 Jolene Liu, a senior from Westview High School in Beaverton, completed a successful internship with TREC this year. The internship was funded by IBM through the Saturday Academy's Apprenticeships in Science and Engineering (ASE) program.
Liu worked under the tutelage of TREC researcher Krista Nordback for two months, stringing up an impressive list of accopmlishments over that time. She worked to help create the online non-motorized traffic count archive, a centralized database for bicycling and walking count data. Liu tested the database structure, summarized data formats and wrote help text for future users. She also processed manual counts of pedestrians and cyclists from intersections in Bend, Eugene, Portland and throughout Oregon.
For an IBPI professional development course, Liu also calibrated pedestrian counting equipment and demonstrated the equipment for course participants.
Perhaps most impressively, Liu co-authored a paper accepted for presentation at the annual meeting of the Transportation Research Board this coming January: "Creating a National Non-motorized Traffic Count Archive: Process and Progress," Paper 15-5310.
"She was amazing," Nordback said. "She took on tasks most undergrads wouldn't have been able to handle, plus she took amazing notes at our (Technical Advisory Committee) meeting in Salem.
"She got to watch a development team in action with all its messiness and enjoyed seeing the TAC deliberate about the details of the archive."
Share this: