We're Seeking Residential Counselors for Transportation Summer Camps
Posted on March 6, 2019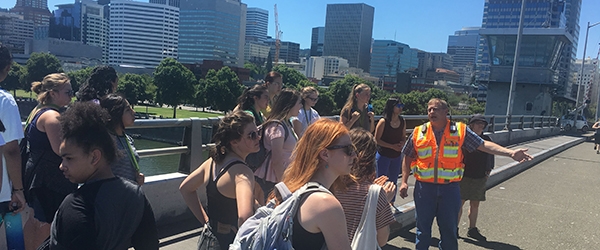 We're offering two week-long transportation residence camps at Portland State University this summer:
June 23–29 Oregon Summer Transportation Institute 2019 at Portland State University
July 14–20 National Summer Transportation Institute 2019 at Portland State University
We are looking for Residential Counselors to provide supervision for campers and ensure their safety and well-being. Counselors are expected to serve as leaders, boundary setters, and role models throughout the program, including during class time. Counselors are available to the campers and staff 24 hours per day during the camp session. During the day when campers are in class, counselors will assist in the classroom and be of general assistance to the other program directors and instructors. All counselors will be in residence on the Campus for the duration of the Institute.
Interested in applying? Download the job description (PDF) for more information.
The Transportation Research and Education Center (TREC) at Portland State University is home to the National Institute for Transportation and Communities (NITC), the Initiative for Bicycle and Pedestrian Innovation (IBPI), and other transportation programs. TREC produces research and tools for transportation decision makers, develops K-12 curriculum to expand the diversity and capacity of the workforce, and engages students and young professionals through education.
Share this: