BikePed Portal: National Bicycle and Pedestrian Count Archive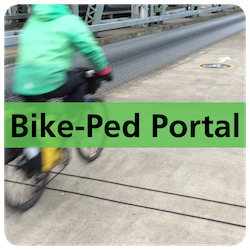 BikePed Portal: Jurisdictions around the country are collecting non-motorized traffic count data, but the lack of a centralized database inhibits data sharing and greatly reduces the utility of this important and growing dataset. In response, we created a national online non-motorized traffic count archive. This archive allows users to upload, view and download data.  Access to a centralized non-motorized traffic data archive opens the door to innovation in research, design, and planning.
With the BikePed Portal we aim to:
---Provide safety researchers with a measure of exposure to collisions
---Give educators data to include cycling and walking in their curricula
---Enable local agencies to seasonally adjust estimates they gather from short-duration count sites
---Provide policymakers with basic information on cycling and walking, including performance metrics, to inform planning and funding decisions
---Allow transportation professionals to better support the public's desire for livable communities
BikePed Portal is currently under development and available to demo. The next step is to improve its usability for both data providers and data users, specifically transportation professionals. Click here to be notified when account access is opened, or to submit your bike-ped data.