Sunday, July 19, 2020, 8:00am PDT

to

Friday, July 24, 2020, 5:00pm PDT
This one-week, all genders residence camp offers any student entering the 9–12 grade an immersive introduction to the workings of the Portland transportation system.
Half of each day is spent in the classroom hearing from PSU faculty and guest lecturers from ODOT, the FHWA, the Portland Bureau of Transportation, TriMet, the Port of Portland, and various other public and private transportation agencies that operate in the Portland metro area.
The other half is spent outside, in field tours of Portland's transportation infrastructure and public spaces. Planners, engineers and designers come from all over the country to see Portland's unique transportation system in action, and researchers use it as a testing ground for the most innovative solutions in safety, sustainability and livable efficiency. 
Students will work in groups to solve a real-world transportation problem and use the skills they have gained to present a solution at the end of the camp.
WHAT YOU'LL GET OUT OF THE CAMP
Introduce you to professionals in...
Read more
Monday, August 24, 2020, 9:00am PDT

to

Friday, August 28, 2020, 4:00pm PDT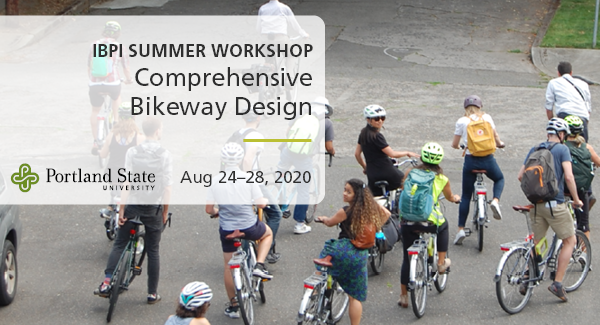 As Portland, Oregon has put bikeway plans into effect, we've learned what works and what doesn't—how to plan effectively, design correctly and make investments that get results. We've distilled those lessons into this course, which covers the fundamentals of bikeway design and planning through an intensive week of interactive classroom, field tours, and design exercises. 
Instructors draw from their years of experience, along with project examples, to highlight practical applications of the principles and techniques covered. The pioneers and leading practitioners in the field will teach the fundamentals of bikeway planning and design through an intensive week of classroom sessions and tours. The instruction and interaction with other participants will bring you up to speed on innovative practice and research and teach you the skills and techniques you need to get started on your next project.
Over the years, the Portland area has implemented numerous types of innovative bicycle facilities and treatments. Daily field tours provide first-hand experience with these facilities and projects discussed in the classroom. These tours showcase not just the operational qualities but also how bikeway planning affects community livability and economic development. With daily bike rides, this course is physically demanding. Participants who aren't used to riding multiple miles per day...
Read more
Pages