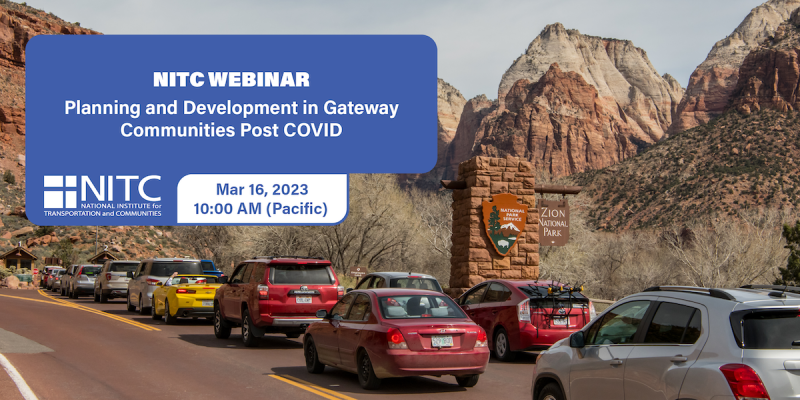 DATE:
Thursday, March 16, 2023,

10:00am

to

11:00am

PDT
SPEAKERS:
Philip Stoker, University of Arizona
PRESENTATION ARCHIVE
OVERVIEW
Gateway communities are the small towns outside of national parks, forests, scenic rivers, and ski resorts. This presentation will highlight the housing, transportation, and development challenges that these communities faced in the aftermath of the COVID 19 pandemic. Our study captured the perspectives of over 200 communities using a questionnaire and case study approach. We present these results and highlight the innovative strategies that these communities are using to address their housing and transportation challenges.
KEY LEARNING OUTCOMES
Recognize and identify gateway communities,
Understand that many "big city" problems are experienced in rural environments as well, and
Learn about strategies to address transportation and housing challenges in these communities.
THE RESEARCH
This webinar is based on a study funded by the National Institute for Transportation and Communities (NITC) and conducted at the University of Utah and the University of Arizona. Read more about the research: Rural Gentrification and the Spillover Effect.
SPEAKERS
Philip Stoker, University of Arizona
PROFESSIONAL DEVELOPMENT
This 60-minute webinar is eligible for 1 hour of professional development credit for AICP (see our provider summary). We provide an electronic attendance certificate for other types of certification maintenance.
LEARN MORE
Sign up for our newsletter to get updates on our events.
Photo by kellyvandellen/iStock
This webinar is hosted by the Transportation Research and Education Center (TREC) at Portland State University. The research was funded by the Summit Foundation and the National Institute for Transportation and Communities (NITC), a program of TREC and one of seven U.S. Department of Transportation national university transportation centers. The NITC program is a Portland State-led partnership with the University of Oregon, Oregon Institute of Technology, University of Utah and new partners University of Arizona and University of Texas at Arlington. We pursue our theme — improving mobility of people and goods to build strong communities — through research, education and technology transfer.