Bikeway design workshop drew professionals from around the country
Posted on August 3, 2015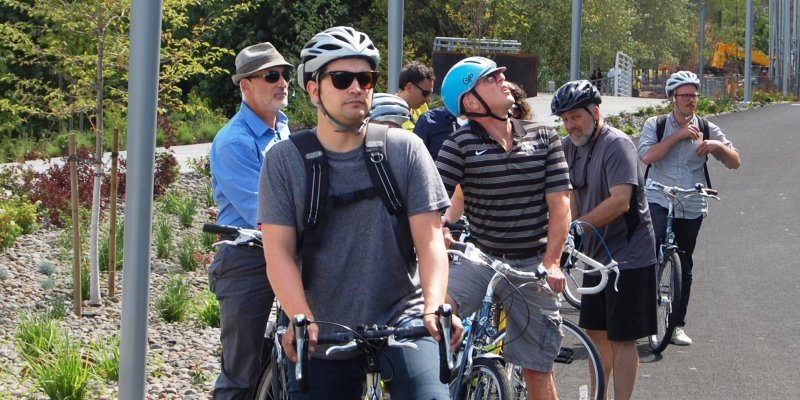 Comprehensive Bikeway Design 1.0, a popular summer workshop offered by the Initiative for Bicycle and Pedestrian Innovation (IBPI), wrapped up to a successful conclusion last week.
Hau Hagedorn, director of the IBPI, has seen the annual workshop grow into a one-of-a-kind training opportunity for bicycle and pedestrian professionals.
"The course is comprehensive. It isn't just about bikeway design. It's about everything a city can do to become more bike-friendly, including policies that support cycling and land uses that encourage active transportation," Hagedorn said.
With 10 participants from six states, this year's workshop helped further the IBPI's goal of expanding America's bicycle and pedestrian infrastructure to encourage healthier, more sustainable forms of transportation. The participants came from a diversity of disciplines including community and bicycle planning, academic research and political leadership, and traveled from as far away as Pennsylvania to visit Portland's bicycle culture.
"I think it reaffirms that this is a unique opportunity, for people to come and see what has been done in Portland. This didn't happen overnight. It gives a good idea of what can be done in other places," Hagedorn said.
The five-day instructional course began on Sunday, July 26, with a tour of Sunday Parkways in northeast Portland led by Linda Ginenthal, manager of Portland's SmartTrips program. Course registrants were invited to play a scavenger hunt, looking for essential ingredients of a successful ciclovia event. By identifying elements like maps, signs, volunteers, event amenities and bicycle services, course members could envision how to plan a Parkways-type event in their own cities.
From Monday to Thursday, the course faculty gave classroom instruction on aspects of bikeway development. Mia Birk, CEO of Alta Planning + Design and IBPI's founder, kicked off the week with an introduction. Lectures covered topics like community engagement strategies, bicycle facility design and health and equity considerations.
Nick Falbo, a senior planner at Alta, and Roger Geller, the City of Portland's bicycle coordinator, led course participants in a design exercise and offered insight on the specifics of protected lanes, bike boxes, boulevards and markings.
Peter Koonce of the City of Portland delved into the policies and principles of design for multiple modes, and how to maintain an acceptable level of service for all mode users.
Washington County's bike-ped coordinator Shelley Oylear provided a faculty toolkit for suburban bikeway design, and George Hudson of Alta gave an overview of strategies for trail connections. Concluding the week of lectures, Alta's Dana Dickman and Katie Mangle talked about health and equity, process and policy.
After each lecture, daily field tours of Portland's bikeways gave participants firsthand experience of the look and feel of different infrastructure types. The group cycled all over the city, exploring features like buffered and separated bike lanes, off-street trails, bike boulevards and various signal crossing treatments.
The workshop has been helping bicycle and pedestrian professionals to create and improve bikeway networks for eight years now, and last year a second workshop was added to IBPI's list of professional development offerings: Comprehensive Bikeway Design 2.0. Registration for this course, which focuses on making improvements to existing bikeway networks, has already filled up for summer 2015.
To be notified when registration opens up for future professional development workshops, sign up for our mailing list and choose "bicycling" as a topic of interest.
Share this: