Graduate student takes research to southeast Asia
Posted on April 5, 2013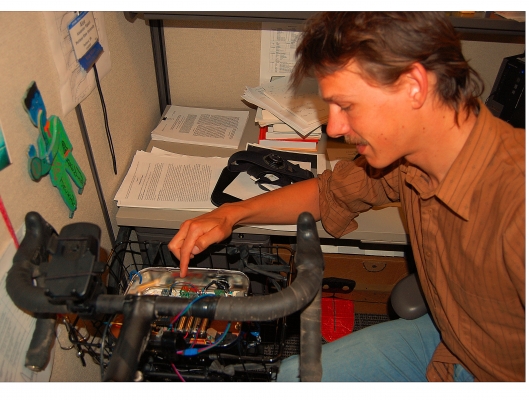 Graduate student researcher Alex Bigazzi, of Portland State University, will present his work in Vietnam next week.
The Asia-Pacific Economic Cooperation (APEC) is hosting a transportation workshop in Ho Chi Minh city. The opportunity for Bigazzi to attend is the result of a spontaneous connection he made recently at a conference in Annapolis, Maryland, where he was giving a paper on truck-specific traffic management.
Large trucks contribute a large share of emissions, especially when traveling at a slow crawl through heavy traffic. Bigazzi's work explores ways to mitigate the effects of this traffic congestion on air quality.
Bigazzi presented two papers at the 54th Annual Transportation Research Forum, which took place March 21-23 in Annapolis. One of them, "The Emissions Benefits of Truck-Only Lane Management," offers a better understanding of the impacts of congestion on heavy-duty vehicles.
After a question-and-answer exchange, he was invited to present the same research in Vietnam's largest city.
APEC's 37th Transportation Working Group Meeting will take place April 8th through the 12th, 2013, at a Sheridan hotel in the former Saigon. Bigazzi, who has never been to Asia, is looking forward to having the opportunity to explore the city. He is scheduled to present his paper on April 11, during a seminar on the environmental benefits of transit-oriented development.
Bigazzi's research for the past few years, some of which has taken place through OTREC grants, has revolved around emissions and congestion. The work he presented in Annapolis developed out of his master's thesis, "Roadway Congestion Impacts on Emissions, Air Quality, and Exposure," which studied the relationships between traffic, vehicle emissions, and air quality.
Bigazzi and his faculty advisor, OTREC researcher Miguel Figliozzi, also won Best Paper award from the Transportation and Air Quality Committee this year, at the annual meeting of the Transportation Research Board in Washington, D.C. Their paper, titled "The Emissions Benefits of Commercial Vehicle Lane Management Strategies," has been recommended for publication in the Transportation Research Record. 
Share this: