Green Lane Project holds promise of more protected bikeways
Posted on June 1, 2012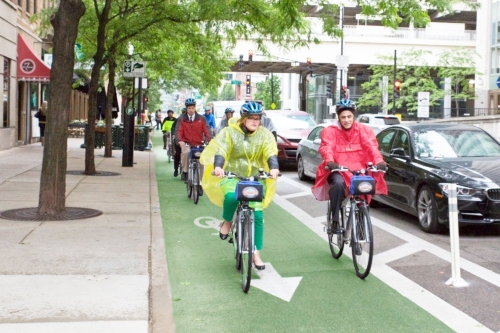 A project to create more miles of protected bike lanes in American cities, which launched this week, turned to OTREC researchers for the project's research component. The Green Lane Project invited the researchers to Chicago for the project launch.
The Green Lane Project, a project of the Bikes Belong Foundation, chose six cities to serve as pilot sites for new designs and approaches to creating comfortable, separated bike routes such as cycle tracks, which may or may not be painted green. Being part of the project will enable the cities to share their experiences, get help with communication and coordinate with federal, state and local agencies.
The six cities are Austin, Texas; Chicago; Memphis, Tenn.; Portland, Ore.; San Fransicso; and Washington, D.C.
Portland State University researchers Chris Monsere, Kelly Clifton and OTREC Director Jennifer Dill went to Chicago for the launch and to meet potential research partners. They shared their research approach with representatives from the six cities.
After performing similar evaluations of bicycle facilities in Portland and Washington, D.C., the Portland State researchers are proposing to fine-tune and apply their methodology to the six project cities. The team would assess the safety, operations economic effects, user experience and perceptions of new protected bikeways.
The proposal was one of 42 submitted under the National Institute for Transportation and Communities, a project of OTREC at Portland State. The Green Lane Project has committed money as a partner for the proposed project.
Share this: