How does transit move you? Oregon Transportation Summit special focus
Posted on July 22, 2014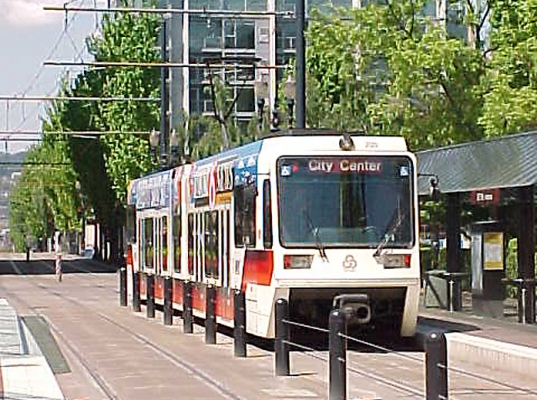 Transit supporters offer up a host of arguments for their favorite form of transportation but may struggle to counter a response of "prove it." This year's Oregon Transportation Summit could help change that.
Fresh research showing some of the benefits of transit will keep the public transportation track lively and relevant during the sixth annual summit. Morning and afternoon workshops spotlight transit, bookending a luncheon keynote by noted transit planner Jarrett Walker.
The Oregon Transportation Summit takes place Monday, Sept. 15 at Portland State University.
University of Utah researcher Reid Ewing made national and international headlines recently with a study showing the effect of light rail in a busy travel corridor. The study, funded by the National Institute for Transportation and Communities, was the first to document a drop in automobile traffic after the opening of a light-rail line. Ewing presents his research at a morning workshop,  "Why Transit Makes you Feel Good."
At the same session, Chris Bone of the University of Oregon will present on crowd-sourced evaluations of transit and Steve Callas of TriMet will present Portland State University-developed software to visualize performance data. Catherine Ciarlo of CH2M Hill moderates.
The afternoon workshop narrows the focus specifically to transit-oriented development. Arthur C. Nelson of the University of Utah presents hard numbers on TOD benefits regarding jobs, housing diversification, affordability and accessibility. OTREC director Jennifer Dill gives an overview of survey research involving TOD occupants and Megan Gibb of Metro examines recent TOD examples in the Portland metro area, including the new light-rail corridor. Nolan Lienhart of ZGF Architects moderates.
Keynote speaker Walker brings his experience and insight to a pivotal moment in transit planning. He helps transit providers clarify their values before making the difficult decisions that define their systems. After spending his early years watching transit policy shape Portland into the city we know today, Walker has taken his consulting across the continent and to Australia and New Zealand before returning to his roots in Portland.
Walker will share concepts from his book, Human Transit, and his blog of the same name, and offer books for sale after his presentation.
Register now for the Oregon Transportation Summit.
Find out more about this year's summit, including speaker biographies and session descriptions.
Materials from past summits are available in the archive.
Share this: