NCHRP Research Identifies Gaps to Clarify and Standardize Bike Signals Across the U.S.
Posted on January 22, 2020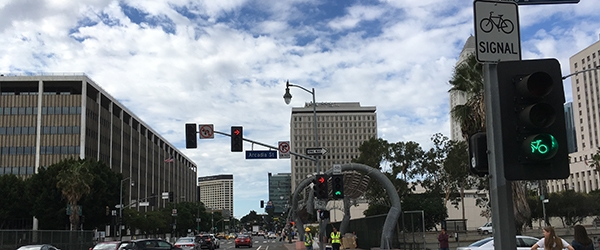 Photo by Christopher Monsere
David Hurwitz and Douglas Cobb; Oregon State University
Christina Fink, Bill Schultheiss, Thomas Hillman, Gwen Shaw and Jesse Boudart; Toole Design Group, Inc.
---
The latest report from the National Cooperative Highway Research Program (NCHRP), "Road User Understanding of Bicycle Signal Faces on Traffic Signals" (20-07/Task 420), zeroes in on some key gaps in research and practice around road users' comprehension of bicycle-specific traffic signal faces.
Led by Chris Monsere and Sirisha Kothuri of Portland State University, the research team included members from Oregon State University and Toole Design Group. The research team reviewed the current literature around bike signals, took a national inventory of approximately 500 existing bicycle signal installations, and interviewed agency staff to identify unmet research needs. A project website includes details from the appendix, mapped with links to Google Streetview. Read our earlier story from 2018 to learn more about the impetus behind this project.
THREE KEY KNOWLEDGE GAPS
Three main areas emerged where more research is needed in bicycle traffic signal faces:
Optimal methods to communicate allowable, protected, or permissive movements to bicyclists at signalized intersections.
Evaluation of size, placement, and orientation of bicycle signal faces on bicyclist and driver comprehension and compliance.
Guidance on visibility and detection of bicycle symbols in signal faces by lens size and distance.
Optimal Methods to Communicate Allowable, Protected, or Permissive Movements to Bicyclists at Signalized Intersections
No published research was found on the best ways to communicate with a person on a bicycle, or other road users, which movements are allowable from the bicycle lane and whether those movements are protected or permissive. Current practice varies across the U.S.:
A number of agencies are experimenting with allowing permissive motor vehicle turns across the bicycle facility when bicyclists have displayed the green bicycle symbol. 
Other agencies are using a flashing yellow bicycle to indicate a permissive bicycle movement. 
In some jurisdictions, the green bicycle symbol varies from protected to permissive depending on installation date.
In the stakeholder interviews, the need for this research was ranked highest and discussed most often. The primary objective? Develop an understanding of actual bicyclist movements while facing the green bicycle symbol from typical intersection configurations. 
This objective could be completed through observational methods. A human factors experiment could be designed and executed in a controlled lab or field research study to quantify comprehension of the existing green bicycle symbol, comprehension of alternative traffic control devices such as four section heads with the green ball for permissive phases, flashing signals, signs, or pavement markings. In addition, while the use of arrow displays to control bicycle movements is likely intuitive, there has not been any human factors research to verify this understanding or explore alternatives.
Evaluation of size, placement, and orientation of bicycle signal faces on bicyclist and driver comprehension and compliance
Cities have implemented a wide variety of bicycle signal designs, and there is limited information on how the design and placement affect bicycle operations and safety. For example, there is no consensus on what should be the horizontal and vertical distance from vehicular traffic signals.
Of the approximately 500 bicycle signal installations surveyed in the U.S. as part of this project, a majority (51%) use two or more bicycle signal heads per approach, but there is no standard requiring more than one signal head. With more bicyclists and bicycle traffic signals, there is greater variability in how these traffic control devices are designed and implemented. Ultimately, this wide variation negatively impacts both understanding and compliance from roadway users.
Guidance on visibility and detection of bicycle symbols in signal faces by lens size and distance
No published research studies were found that have directly addressed the visibility of the bicycle symbol in the signal lens, or comprehension of the bicycle symbol in the signal face. 
Visibility includes placement for optimal detection by road users, conspicuousness of the lens, and detection distances. There are two separate issues related to the comprehension of the bicycle symbol in the signal face: 
Recognizing that the symbol means the signal is exclusive for bicycles, and 
Knowing which movements are allowed by the displayed indications.
The primary objective of such research would be to develop guidelines for the overall bicycle symbol design in the signal face, including size and brightness, and determination of bicycle signal face detection distance. The research would explore lens size for various applications of far-side and near-side placement.
NEXT STEPS
The complexity of signalized intersections, especially in busy urban settings, requires that traffic engineers and designers think carefully about the interactions of all modes and users. By identifying these research areas of focus, the team has paved the way to effectively address any remaining gaps in road user comprehension and compliance with bicycle signals. 
This research was funded by the National Cooperative Highway Research Program (NCHRP Project 20-07/Task 420) and conducted by an interdisciplinary team of researchers from Portland State University, Oregon State University, and Toole Design Group.
RELATED RESEARCH
To learn more about this and other TREC research, sign up for our monthly research newsletter.
The Transportation Research and Education Center (TREC) at Portland State University is home to the National Institute for Transportation and Communities (NITC), the Initiative for Bicycle and Pedestrian Innovation (IBPI), and other transportation programs. TREC produces research and tools for transportation decision makers, develops K-12 curriculum to expand the diversity and capacity of the workforce, and engages students and professionals through education.
Share this: