Study Abroad in the Netherlands with TREC in 2020
Posted on January 22, 2020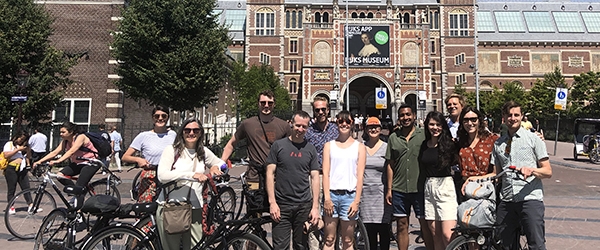 It's been nine years since we first started offering our transportation study abroad course in the Netherlands, and the program is still going strong. This year we're offering two versions of the course - one geared towards students and another focused on active professionals:
These courses create an immersive experience to explore the Dutch approach to cycling, transit, innovative mobility and land use. Students and professionals will develop a broader understanding of sustainable transportation issues and expand their toolkit for context-sensitive solutions.
Today, the Netherlands is the safest place in the world to operate a bicycle, based on injury and fatality rates per miles traveled. But in 1967, Amsterdam's chief inspector of traffic police called bicycling in the Netherlands "tantamount to attempting suicide." In just five decades, the Dutch built a bicycle infrastructure that is the envy of the rest of the world. How did they do it? More to the point, how can we?
It's all about gaining the insight and inspiration to recreate their achievements here in the United States.
"This short study abroad course is by far your best opportunity while enrolled at PSU to observe real world transportation examples..you are surrounded by truly innovative engineering solutions... Setting aside extra time for personal exploration is not only a blast, but you'll continue to learn the deep connection between certain transportation priorities and the type of vibrant living conditions that exist as a result. The costs involved in taking this course are an investment with a big payoff."
– Kirk Paulsen, Engineer at Alta Planning+Design and participant in the inaugural course in 2011
"I've been Amsterdam and Copenhagen before; so I thought I absorbed most of the advanced pedestrian/bicycle facilities through walking or biking around. But then, I studied abroad with IBPI to The Netherlands and put my previous self-learning experience to shame. With IBPI, you'll not only look at world class bicycle facilities, but some of the Dutch designers will be there and critique their own built infrastructure. The Dutch are relentless optimizers and you'll go on a journey to discover all the little tweaks they've tried or are still experimenting with over the years. You might even hear how they construct their infrastructure. Not only that, you'll meet some fantastic American colleagues on your trip, live a high quality of life like the Dutch, and begin to accumulate an amazing photo library. If you are own the fence about going, jump off the fence and onto a Dutch bike with IBPI!"
-Jesse Boudart, Engineer at Toole Design Group and 2013 participant
"In the Netherlands, we are learning about how so much [is] about marginal improvements. For example, prioritizing linkages that build more complete networks, segregating modes, reducing parking, and lowering street speeds on the block-level are strategies that the Dutch used to go from Amsterdam's vehicle-dominated roads of 1960s and 70s to its famous "bicycle utopia" streets of today. It was smart planning for incremental change to the urban landscape in conjunction with advocacy, cooperation, lobbying, and diplomacy. All these parts make a whole, and the Dutch have taught us to not lose sight of the forest for the trees."
-Brittany Quale, Associate at EnviroIssues and 2019 participant
Questions about the two courses? Contact us at asktrec@pdx.edu.
The Transportation Research and Education Center (TREC) at Portland State University is home to the National Institute for Transportation and Communities (NITC), the Initiative for Bicycle and Pedestrian Innovation (IBPI), and other transportation programs. TREC produces research and tools for transportation decision makers, develops K-12 curriculum to expand the diversity and capacity of the workforce, and engages students and professionals through education.
Share this: