Maseeh College Announces New Associate Dean for Research
Posted on December 13, 2018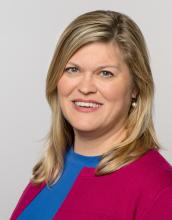 This article was cross-posted from Portland State University news.
The Maseeh College of Engineering and Computer Science at Portland State University is pleased to announce that Professor Kelly Clifton has accepted the position of Associate Dean for Research (ADR). This role will provide leadership for research excellence that supports the mission and vision of the College. The ADR will oversee the research portfolio in the College and will be responsible for growing the College's funded research portfolio. Dr. Clifton brings much research experience to the position, as well as a career involving interdisciplinary collaboration, development of partnerships, engineering and planning expertise, and more.  
Dr. Clifton looks forward to her new role and stated, "As the Associate Dean of Research for MCECS, I am excited to be a part of this next phase of growth and development of the college. I look forward to working with our talented faculty, staff, and students to advance our research enterprise and grow our capacity to engage in scientific exploration and discovery. At MCECS and the larger PSU community, we direct our energies toward activities that aim to make a difference."
Dr. Clifton will assume her new role beginning January 2019.
Share this: