An Equity Lens on Automated Fare Payments: New Pooled Fund Study
Posted on December 19, 2018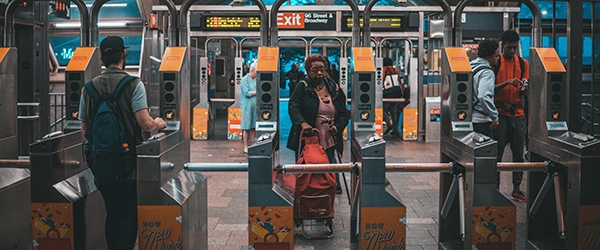 Principal Investigator:
Aaron Golub
, Portland State University
---
As transit agencies modernize their fare payment systems, opportunities to pay with cash diminish. This speeds boarding and lowers the cost of operations, while also creating new sources of ridership data. Arguably, service is improved for riders as well, where payment systems work across modes, and in some cases different transit providers, creating a more seamless and simplified experience. Still, about 15% of adults in the United States are without a bank account or credit card, and many rely on restrictive cell-phone data plans or don't have access to a smartphone. These shares are even higher for public transit users. As transit fare technologies move further from cash, these digitally-excluded riders will find it more difficult to conveniently pay their transit fares.
In the latest project to be funded under the National Institute for Transportation and Communities (NITC)'s Pooled Fund grant program, researchers from three universities will work together to evaluate practices that address equity issues in cashless fare payment systems. With NITC matching funds from the project partners, the project is supported by a pooled fund grant of $150,000. These partners include the City of Eugene, OR; City of Gresham, OR; Lane Transit District; moovel NA; RTD Denver; WMATA, DC; LAMetro, CA; and TriMet.
NITC POOLED FUND GRANT
Earlier this year we released an RFP for a collaborative project that addressed a group of partners' common needs. We ended up selecting two Pooled Fund projects for 2018, and the funds pooled by the agencies were then matched 1:1 by NITC. The research team for the first project, which will explore data fusion techniques to derive bicycle volumes, was announced in November 2018.
THE RESEARCH TEAM
Portland State University
Aaron Golub, Ph.D., Professor of Urban Studies and Planning
John MacArthur, Sustainable Transportation Program Manager, Transportation Research and Education Center (TREC)
University of Oregon
Anne Brown, Ph.D., Assistant Professor, Planning, Public Policy and Management
University of Tennessee, Knoxville
Candace Brakewood, Ph.D., Assistant Professor of Civil & Environmental Engineering
THE ISSUE
Transit agencies are increasingly adopting cashless fare payment systems; while such systems can lower operating costs and speed boarding times, they also have the potential to exclude some riders and undermine both individual access and transit ridership.
This research will employ a mixed methods approach combining qualitative and quantitative methods to answer three research questions:
What kind of advanced fare payment systems are being implemented, and what measures are used to address concerns of exclusion?
How effective are these mitigations for addressing exclusion in different populations from a user perspective?
How effective are these mitigations in terms of agency costs?
The project team will collect data from multiple sources in order to develop a comprehensive understanding of equity challenges present in new fare adoption, as well as agency responses to address such challenges. The team will review the practices of a broad set of transit agencies to inventory their cashless fare collection technologies and existing equity mitigation strategies. They will also gather information by conducting focus groups with riders and non-riders, working with local community organizations (like OPAL, Hacienda, APANO and Springfield Alliance for Equity and Respect (SAfER)) to recruit members for the focus groups and to understand community issues and concerns around cashless fare payments.
ANTICIPATED OUTCOMES
Results from this research will inform practitioners and policymakers seeking to balance new fare technology adoption with concerns about equity and inclusion on transit. The key contributions will be the broad review of equity mitigation strategies, how they work and how well they address potential exclusion. Two effectiveness frameworks will be developed from a user and agency standpoint. The user framework will focus on convenience and various dimensions of access such as spatial proximity, understanding and knowledge, age, and access to Internet, smartphones and alternative banking services. The agency framework will incorporate various dimensions of costs – fixed costs of installation and capital, and recurring costs of maintenance and operations. The project team will develop case studies for Denver Regional Transportation District and Lane Transit District focusing on the effectiveness of implemented equity solutions. The case studies will evaluate impacts of automatic fare collection on identified equity groups. These cases can be used to illustrate the specific trade-offs encountered in implementing equity mitigation strategies for both the user and agency perspectives.
This research was funded by the National Institute for Transportation and Communities, with additional support from the City of Eugene, OR; City of Gresham, OR; Lane Transit District; moovel NA; RTD Denver; WMATA, DC; LAMetro, CA; and TriMet.
RELATED RESEARCH
To learn more about this and other NITC research, sign up for our monthly research newsletter.
The National Institute for Transportation and Communities (NITC), one of five U.S. Department of Transportation national university transportation centers, is a program of the Transportation Research and Education Center (TREC) at Portland State University. The NITC program is a Portland State-led partnership with the University of Oregon, Oregon Institute of Technology, University of Utah and new partners University of Arizona and University of Texas at Arlington. We pursue our theme — improving mobility of people and goods to build strong communities — through research, education and technology transfer.
Share this: