MURP student Francisco Ibarra Interns at Oregon Department of Transportation
Posted on May 21, 2021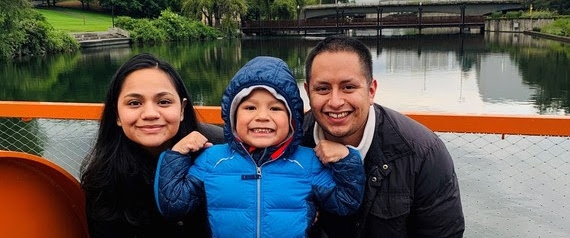 The Oregon Department of Transportation (ODOT) is a department of the state government of the U.S. state of Oregon responsible for systems of transportation. It was first established in 1969 and has a passionate, talented, diverse workforce of almost 5,000. This story was originally shared in ODOT'S February 2021 Oregon Toll Program newsletter.
---
Francisco Ibarra, a Toll Program planning intern, is currently attending Portland State University for his Master of Urban and Regional Planning (MURP) degree. Francisco is from East Portland and has lived in Gresham for most of his life. Francisco knows the importance of collaborative planning with community members.
As a research assistant to the Toll Program Equity and Mobility Advisory Committee [at ODOT], Francisco attends meetings, listens to questions, and follows up with researched answers. Recently, he completed research on air quality monitoring related to transportation and health. He is ready to provide help to support the Toll Program and committee in every way he can.
"This project is directly related to my degree in urban and regional planning, especially given the equity focus on this project. Equity has been infused in a lot of the core classes in my degree."
Francisco knows that a tolling program should engage and benefit the community where it is being carried out. He hopes the public will understand tolling is not just about vehicle drivers, and that toll revenue can improve our current transportation system. Because past transportation projects have left out and underserved certain communities, Francisco sees a way to create a tolling program that benefits communities that have carried most of the burden in the past.
Francisco said the internship has connected his academic learning with people who will be affected by tolls.
"It matters how you frame certain things to the community. As planners we can get caught up in our own world in terms of what problems we see and what solutions we see, that we sometimes forget we might have community members who see the same problem but have different solutions." he said, "Reaching out to a small islander community in Rockwood was difficult, until we learned that they primarily use Facebook to connect. That was a community-led solution."
These lessons remind Francisco to be genuine and transparent with community members, communicate what the project is trying to accomplish, and aim to reach equitable benefits. The Toll Program team is honored to have Francisco aboard and look forward to his meaningful contributions to the work.
The Transportation Research and Education Center (TREC) at Portland State University is home to the National Institute for Transportation and Communities (NITC), the Initiative for Bicycle and Pedestrian Innovation (IBPI), and other transportation programs. TREC produces research and tools for transportation decision makers, develops K-12 curriculum to expand the diversity and capacity of the workforce, and engages students and professionals through education.
Share this: