Oregon's Electric Vehicle Owners Want Better Public Charging Infrastructure
Posted on August 9, 2018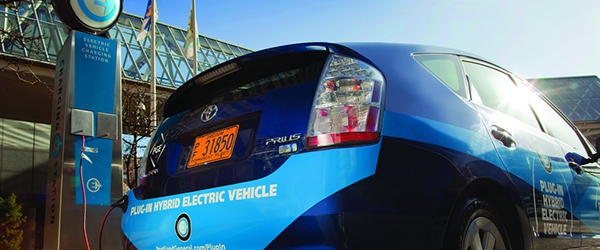 Learn more about this research by viewing the Executive Summary and the full Final Report on the Project Overview page.
---
The market for electric vehicles (EVs) is changing dramatically in the United States, and zero-emissions vehicles could replace internal combustion engine automobiles in the near future. Oregon has one of the highest per-capita EV sales markets in the country, and has declared an ambitious goal of complete electrification of the private automobile industry by 2050. This makes Oregon a prime testing ground for the climate-friendly vehicles.
A new study conducted by John MacArthur, a researcher at the Transportation Research and Education Center (TREC) at Portland State University, analyzed survey responses from 4,069 EV owners in Oregon to identify the biggest challenges and opportunities for the emerging industry. Some key findings:
EV owners demonstrated a high level of satisfaction with their vehicles; however, most respondents were not satisfied with the quality of the public charging experience.
The majority of EV owners in Oregon are white, well-educated, and affluent. In order for EVs to gain widespread acceptance there is a necessity to endorse educational programs in low-income and minority communities and provide incentives to support socioeconomically disadvantaged households.
The findings of this study can be a useful tool to inform people who may be considering an EV. Survey results indicate that some common concerns that could keep people from buying electric—like battery range and longevity, or charging time and costs—are unlikely to cause issues. However, other concerns may be supported, such as concerns about public charging infrastructure and the resale value of the vehicle. 
These issues require the attention of local governments and EV distributors. In order to increase the propensity to purchase an EV, especially for those without access to charging at home, there is a need to enhance the existing infrastructural conditions. 
Furthermore, public policies should promote programs which provide information, guidance, and support to consumers. Results from this study could inform advocacy groups and educational programs, and could also help consumers choose the most appropriate type of EV based on their driving habits.
This research was funded through a grant from Metro's regional flexible funds through the Federal Highway Administration (FHWA) Congestion Mitigation/Air Quality Program, with additional support from Forth Mobility.
RELATED EVENTS
RELATED RESEARCH
To learn more about this and other TREC research, sign up for our monthly research newsletter.
Share this: