Transportation Pros Learn to Wrangle Numbers in Data Science Course
Posted on August 21, 2018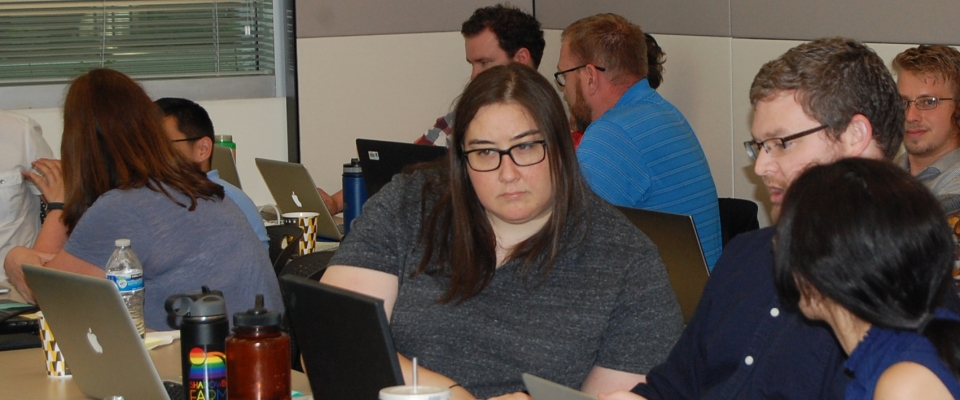 Principal Investigator:
Liming Wang
, Portland State University
Learn more about this curriculum and how you can apply it at your school by viewing the one-page Executive Summary and the full Final Report on the Project Overview page.
---
This course is being offered again April 3–10, 2019. Learn more and register here.
---
"Scientific Computing for Planners, Engineers, and Scientists," our data science course for transportation professionals, has completed its second year and continues to help planners and engineers improve their data processing workflows.
Taking an ocean of numbers and converting it into compelling infographics, charts and narratives that communicate results is a key part of the transportation profession, and a daunting challenge. That's why we created this week-long data science course. It's also why we're offering a one-day workshop that focuses specifically on transportation data as part of our 2018 Transportation & Communities Academy.
Portland State University's Liming Wang taught the course for the second time this August, along with TREC's Transportation Data Program Administrator Tammy Lee, to a class of 22 students. First taught by Wang in the fall of 2017, the course covers how to collect data, clean them up, visualize, explore, model and eventually compile them in a report. 
"It seems to be a good course that can tap into a demand not yet met by other venues," Wang said.
The curriculum is helpful for data users of any discipline, but is tailored to meet the unique needs of transportation professionals. Students worked with bicycle counts from the City of Portland, practicing loading, transforming, visualizing and modeling the data. See class projects from this year's students.
"It was more than double the class size from last year, so a very good turnout. We had people come from far away and across many different sectors," Wang said.
The course curriculum continues to evolve over time, changing to meet the specific needs of students and to take advantage of emerging new resources. Much of the course curriculum is free and available online, allowing students to work on their own time.
Want to teach this course, or use the materials to teach yourself data science? You can access the curriculum or let us know if you want to be notified when registration is open for next year.
This curriculum was funded by the National Institute for Transportation and Communities.
RELATED EVENTS
RELATED RESEARCH
To learn more about this and other NITC research, sign up for our monthly research newsletter.
The National Institute for Transportation and Communities (NITC), one of five U.S. Department of Transportation national university transportation centers, is a program of the Transportation Research and Education Center (TREC) at Portland State University. The NITC program is a Portland State-led partnership with the University of Oregon, Oregon Institute of Technology, University of Utah and new partners University of Arizona and University of Texas at Arlington. We pursue our theme — improving mobility of people and goods to build strong communities — through research, education and technology transfer.
Share this: