OTREC research aids Oregon Department of Transportation with placing traffic devices
Posted on October 16, 2013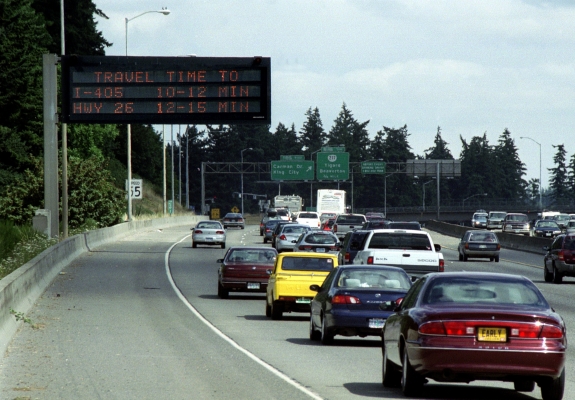 OTREC research recently helped the Oregon Department of Transportation (ODOT) determine where to place traffic management devices.
Driving down the freeway, motorists usually appreciate seeing lit-up signs with changing numbers that tell the estimated drive time to an upcoming location. These variable message signs (VMS), also called changeable (CMS) or dynamic message signs (DMS), provide drivers with information that helps them make route decisions.
The Federal Highway Administration (FHWA) has put a high priority on the use of VMS to provide travel time estimates to the public.
Drive times on the VMS are estimated based on sensors which measure the speed of traffic, and an algorithm to calculate how the traffic will flow.
Given the many variables involved, it can be challenging to estimate reliable drive times. ODOT is particularly challenged: the Portland area, with its tight, circular freeway system, can become severely congested after only a couple of minor incidents.
That means Dennis Mitchell, ODOT's Region 1 Traffic Engineer, has an interesting job.
Traffic engineers work to ensure the safety and efficiency of public roadways and transportation systems. Mitchell constantly looks for ways to improve the reliability of Portland's congested freeway network, especially during peak commute times. ITS, or Intelligent Transportation Systems, devices such as cameras, inductive loop detectors, and VMS can help to maintain reliability.
That's why, when OTREC's research program manager Hau Hagedorn suggested doing a study to assess and refine ODOT's travel time estimates, Mitchell was on board.
Led by Principal Investigator
Kristen Tufte
, OTREC researchers collected the "ground truth:" they drove the corridors, making over 500 runs to compare estimated travel times with actual drive times.
The goal of the research was to understand the conditions under which travel time estimation algorithms are not accurate.
Researchers identified several important gaps in the ITS system, such as Portland's Marquam Bridge, where travel times were being altered due to congestion and there was no device in place to register the change.
ODOT was able to save considerable cost by using this OTREC-funded research to identify exactly where the new devices should go. Whereas other metropolitan areas in the United States install such sensors every 1/4 to 1/2 mile, OTREC's research helped ODOT save a significant amount of money by pinpoint the exact locations where sensors would have the most benefit for estimating travel times.
"[The researchers] were able to identify congestion corridors where if we had additional detection, we would do a better job of estimating travel time. We've installed the new sensors; it's going to be much better than before. This was definitely a tangible application of the research," Mitchell said.
The new traffic devices have been installed and became operational in late summer 2013. For more information about the research,
click here to visit the project page
or download the final report.
Share this: