PSU offers transportation study abroad opportunity in the Netherlands
Posted on October 22, 2013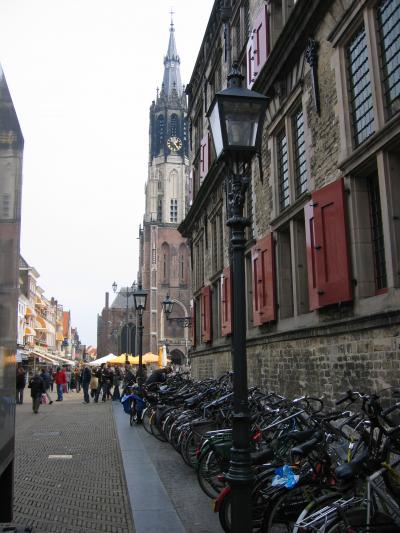 Most people in transportation circles have heard all about the Netherlands as a bicyclist's mecca, a place where thirty-five percent of the population regularly commutes by bike. What may be less commonly known is how recent this achievement is.
In 1967, bicycling in the Netherlands was "tantamount to attempting suicide," according to Amsterdam's chief inspector of traffic police.
Today, the Netherlands is the safest place in the world to operate a bicycle, based on injury and fatality rates per miles traveled. In less than fifty years, their bicycle safety rates have soared and the Dutch have built a bicycle infrastructure that is the envy of the rest of the world. How did they do it? 
Could Americans possibly do the same?
That's what Portland State University transportation students aim to find out.
When PSU student Kirk Paulsen signed up to spend two weeks in the Netherlands as part of the first PSU civil engineering study abroad program, he wasn't sure what exactly he might get out of it, but knew that he wanted to see famed Dutch bicycling facilities for himself. Paulsen was one of seven transportation students in the pilot class of 2011, and now has this to say about the experience:
"This short study abroad course is by far your best opportunity while enrolled at PSU to observe real world transportation examples..you are surrounded by truly innovative engineering solutions... Setting aside extra time for personal exploration is not only a blast, but you'll continue to learn the deep connection between certain transportation priorities and the type of vibrant living conditions that exist as a result. The costs involved in taking this course are an investment with a big payoff."
The idea behind the Netherlands trip is not only to expose transportation students to living examples of communities that are successfully built around active travel, but also to encourage them to find ways to bring these successes back home. Dutch designs are becoming sought-after in the US, and knowledge of them will set participants apart when looking for a job. Students who come back from the Netherlands will know how to create designs that are showing up in the Urban Bikeway Design Guide, and beginning to be seen all around Portland and other major cities.
The course is not limited to PSU students, but is open to planners, engineers, and anyone interested in Dutch culture.
Every year, Professor Peter Furth of Northeastern University in Boston brings a civil engineering class to the Delft University of Technology. The course is Sustainable Transportation in the Netherlands. Paulsen and six other students traveled to Delft in July 2011 with PSU adjunct professor Peter Koonce, who had heard about the course from Furth.
In this article from the Boston Globe, Furth describes his belief that future generations of planning students could bring techniques from the Netherlands home, to change the face of urban landscapes in the USA.
Peter Koonce and Peter Furth already knew each other from Transportation Research Board meetings, and both shared an interest in bicycle traffic management. When Koonce heard about the Netherlands course in Delft, Furth offered him a guest lecture spot, which then grew to an invitation to bring a handful of students along to sit in.
The reactions from PSU student participants were so positive, there was hardly a question of whether to go back the next year: the program is still going strong, and it is almost time to think about registering for 2014. Spots are limited; the Northeastern class is typically at least twenty people, so the PSU group usually comprises six to eight students.
The course offers students the opportunity to develop a lived understanding of transportation systems in an international context. Students are provided with Dutch bikes to use for the couple of weeks they'll be in Delft: sturdy, functional cruisers the locals call "city bikes." They're built for utility, not speed, which makes them quite appropriate for use on the commuter-filled bike lanes, bike roads, and bikes-only roundabouts that students will ride on.
"This was a course that I should have had when I was an undergrad, to give me a sense of what bike infrastructure could look like," Koonce said.
Josh Capps, a PSU graduate student who went to Delft, called it an eye-opening experience and said that he sees it as a call to action. "Students from our course will be going on to different cities and towns throughout the U.S," Capps said, "Our job is to spread the word on the possibilities of healthy communities and lifestyles as we have seen here in the Netherlands. We came here to see what can be done with foresight, thought and ingenuity in urban planning… We have seen that it can be done." For Capps and others, this is about more than city planning; it's a cultural revolution.
PSU Professor Robert Bertini, who participated with Koonce in 2012, and led the course in 2013, is confident that alumni of this course will become ambassadors for transforming transportation systems in the U.S. using the Dutch model as inspiration. 
"It is inspiring to watch our students transform from when they arrive in the Netherlands through the last moments of the course," Bertini said.
PSU student Kate Drennan, in her blog about the experience, describes seeing "a sea of bikes" and marvels at high quality living spaces, without the smell, sound or danger of cars, where children as young as six or seven can bike alone to school. In describing the morning bicycle rush hour in Delft, Drennan writes, "At one particular intersection, the cycle track is so busy that cars never experience a large enough gap in cross (bike) traffic to pull across the intersection. As such, they post crossing guards in the morning to intermittently pause all bike traffic on the cycle track to allow the cars to pull through the intersection. It's like our morning commute turned on its head." 
Jesse Boudart, another former student to make the trip, discusses in his blog some social implications of having a pedestrian-and-bicycle-dominated infrastructure: "If kids don't have the opportunity to make their own decisions during 'unstructured' play time they will not gain experience… I think the environment (infrastructure) is a large contributing factor to unstructured play time."
For a living example of that freedom, students get to see another kind of town. Three train rides away is Houten, a modern town designed around bicycles that Drennan calls "The Pleasantville of the Netherlands." With its car-free spaces and wide, plentiful bike routes, Houten is a veritable bicycle heaven, and students have the opportunity to observe it in-depth.
For more about the Netherlands experience, check out Peter Koonce's blog. He's got a top-five list highlighting some of the most exciting insights that students took away from the trip. Several student blogs about the journey are also linked to Robert Bertini's page about the program.
Going forward, as more of PSU's transportation students immerse themselves in the Netherlands' civil engineering techniques, there's every chance they will bring more of it home. As far as Peter Koonce is concerned, that could be exactly what this country needs. "Just think about the challenges that we're faced with in the U.S., obesity and health related problems… how much cycling and walking can be a part of that solution," Koonce said.
For more information about the summer program and details on how to apply, visit the IBPI's page about the program, or Bertini's. The course is worth 5 credits, and next year's anticipated dates are June 28-July 12, 2014. 
Share this: