Portland State reaches elite bike-friendly status
Posted on November 5, 2015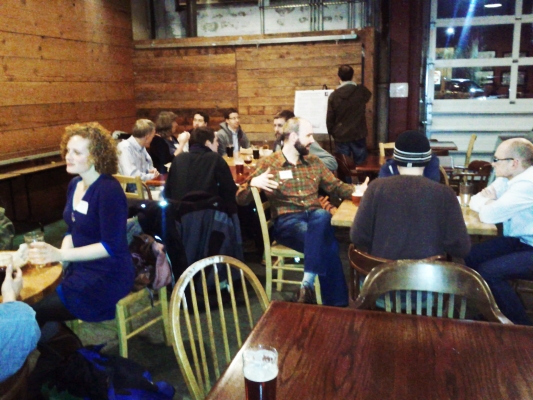 Portland State University today achieved the highest ranking from the League of American Bicyclists' Bicycle Friendly University program. Portland State is now one of just five platinum universities recognized under the program.
Other NITC program campuses were also designated as bike friendly. University of Oregon achieved gold status and University of Utah, silver.
The Bicycle Friendly University program evaluates applicants' efforts to promote bicycling in five primary areas: engineering, encouragement, education, enforcement and evaluation/planning, known as the Five E's.
The league noted that Portland State's support for bicycling has helped reduce congestion, improve air quality and lower the demand for parking on campus. "Portland State encourages bicycling as an affordable, efficient option for transportation and provides amenities such as indoor bicycle parking, low-cost bicycle rentals, and an on-campus Bike Hub, where students can find everything they need to make bicycling a part of their commute options," the league stated.
PSU previously was a gold-level bike-friendly university. In the past two years it expanded its "Vik Bike" bicycle rental program from 12 bicycles to 134. Each bike comes with lights, a lock and a helmet. The program, in which students can rent a bike for a term, receive training on bike commuting and bike maintenance, has a waiting list of participants.
During the same two-year period, Portland State increased its protected bike parking spaces to 300, up 20 percent during the period, and has plans to create 100 more in the coming year. The university has about 2,200 indoor and outdoor bike parking spaces on campus, a six-fold increase over the last decade, according to Ian Stude, PSU's director of parking services. Meanwhile, the growth of car parking spaces on campus has remained relatively flat, Stude added.
Fifteen percent of employees and 10 percent of students regularly bike to campus according to Clint Culpepper, Portland State's bicycle program coordinator. Most never bring a car to campus:  About 80 percent of PSU students and employees commute by taking mass transit, bicycling or walking, Culpepper said.
The program recognizes colleges that promote and provide a more bikeable campus for students, staff and visitors. The program offers support to create great campuses for cycling.
From the League:
Colleges and university campuses are unique environments for their high density, stimulating atmosphere and defined boundaries. These factors make them ideal environments to incorporate bikes. Many colleges and universities have built upon these good conditions and embraced the enthusiasm for more bicycle-friendly campuses by incorporating bike share programs, bike co-ops, clubs, bicycling education classes and policies to promote bicycling as a preferred means of transportation. With the goal to build on this momentum and inspire more action to build healthy, sustainable and livable institutions of higher education, The League created the Bicycle Friendly University program.
Learn more about the program from the League of American Bicyclists.
Share this: