Research recommends limiting public-road role for neighborhood electric vehicles
Posted on December 30, 2010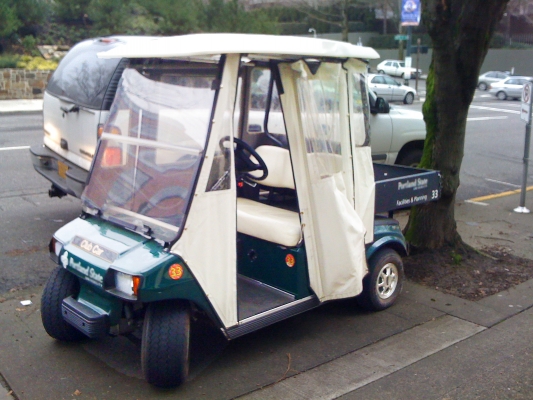 Use of small electric vehicles is spreading from gated communities and college campuses onto city streets and even state highways. But should these vehicles share the road with heavier, faster ones?
In many situations, concluded Oregon State University researcher Kate Hunter-Zaworski, the answer is "no." Hunter-Zaworski examined the vehicles, called neighborhood electric vehicles or low-speed electric vehicles in this OTREC project, co-sponsored by the Oregon Department of Transportation. Oregon regulations should limit the vehicles to roads with a speed limit of 25 mph and only allow them to cross faster roads at four-ways stops or traffic lights, she found.
In her just-published report, Hunter-Zaworski also urges transportation authorities to commit to separated transportation networks for all lower-speed transportation, including neighborhood electric vehicles. Such networks can connect neighborhoods to workplaces, schools and services with little use of busy roads.
Because neighborhood electric vehicles often look more like passenger cars than golf carts, their drivers and other road users might think they're just as safe. But governments don't classify neighborhood electric vehicles as passenger cars, and they aren't subject to the same safety regulations. As a result, Hunter-Zaworski stresses the need to educate users about the risks.
Learn more about the project or download the final report.
Share this: