University of Oregon student reflects on cross-country solo bike journey
Posted on December 30, 2010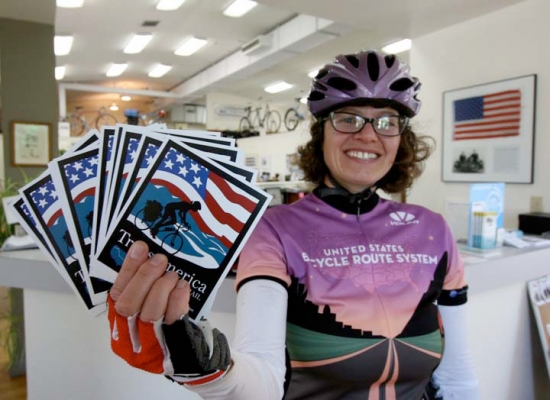 Heidi Beierle, a community and regional planning master's student at the University of Oregon, shared stories Dec. 11 from her solo cross-country bicycle ride. Beierle presented "Take Me to Cooky's: Riding Solo from Eugene to D.C." at Eugene's downtown Public Library.
During the summer of 2010, Beierle rode her bicycle from Eugene to the Preserving the Historic Road conference in Washington, D.C. At the conference, Beierle presented preliminary findings of her research on the connections among historic roadways, bicycle tourism and rural economic development. 
Beierle rode solo approximately 3,500 miles in 80 days with all her gear in two front panniers.  She delivered window decals to b
usinesses along the TransAmerica Bicycle Trail and interviewed 100 people about bicycle touring and rural living.  Beierle focused on adventure and the unexpected, including sleeping among sprinklers in Prineville, Ore., raptor and mosquito attack in Wisdom, Mont., quirky bike-friendliness in Guffey, Colo., and intense heat with dog attack made better by doing a tractor wheelie in western Missouri.
She began her presentation with a picture of some peculiar looking cows. "I rode past these cows and saw the landscape looking out at me," Beierle said. "This wasn't the only place where I felt the landscape keeping its eye on
me. It was my constant companion the entire journey."
Beierle blogged about her journey at enroutetransport.org. Money to support her trip came through the Portland chapter of the Women's Transportation Seminar, Oregon's State Historic Preservation Office, the University of Oregon and LiveMove, the UO transportation and livability student group, which is supported by OTREC. Following the trip, Beierle was awarded an Oregon Heritage Fellowship to continue her work and will present findings in Astoria in April at the Oregon Heritage Conference.
Share this: