Sirisha Kothuri named UTC student of the year
Posted on January 13, 2015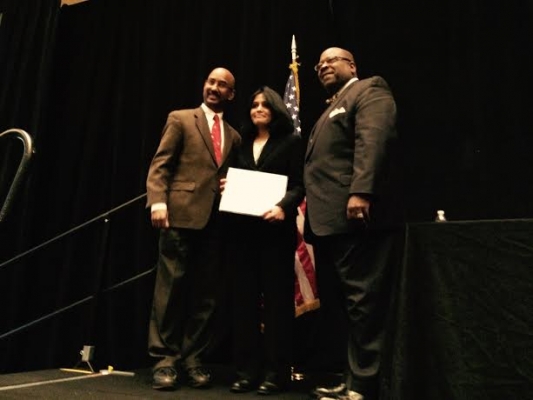 Sirisha Kothuri, an active transportation researcher who received her doctorate from PSU in 2014, was announced as the NITC university transportation center student of the year on Saturday, Jan. 10 at TRB.
Kothuri, a former OTREC scholar and NITC dissertation fellow, devoted her doctoral research to optimizing transportation infrastructure for pedestrians. Her dissertation, "Incorporating Pedestrian Considerations into Signal Timing," focuses on ways to minimize the wait time at traffic signals experienced by people on foot.
Pedestrians are the most vulnerable group of road users, so safety is a top priority for many jurisdictions, with less focus being placed on travel time. Kothuri believes that there is a critical need to incorporate pedestrian considerations into signal timing design, in part because unacceptable delay can impact signal compliance and thus impact safety.
The overall objective of her research is to make traffic signals more responsive to pedestrian needs.
Findings from Kothuri's research can inform practitioners in determining treatments that can benefit pedestrians by considering their needs and reducing delay.
On Tuesday of this week's TRB annual meeting, Kothuri presented a poster titled "Exploring Thresholds for Timing Strategies on a Pedestrian Active Corridor."
She will share more of her pedestrian research in a NITC Webinar Jan. 29.
Share this: