Student Spotlight: 2021 NITC Student of the Year - Kelly Rodgers, Portland State University
Posted on January 6, 2022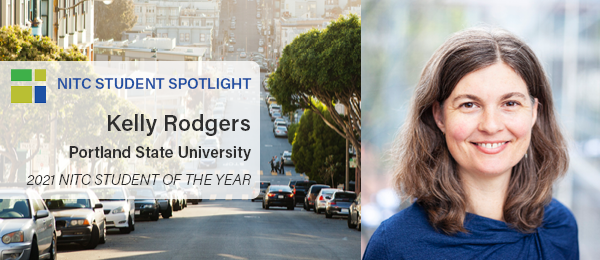 Kelly Rodgers is a Portland State University PhD student in Urban Studies who is studying the use and influence of health indicators in transportation plans. In 2021, Kelly was named the NITC Outstanding Student of the Year. Kelly has been awarded the Dwight D. Eisenhower Transportation Fellowship three times and twice named a NITC Student Scholar. Kelly is also the Executive Director of Streetsmart, a non-profit research synthesis and resource clearinghouse for integrating health, climate, and equity into transportation. Kelly is the vice-chair of the Institute of Transportation Engineers' Health and Transportation Standing Committee, a member of the Transportation Research Board's Transportation and Public Health Committee, and is an advisory board member of the American Public Health Association's Center for Climate, Health, and Equity. 
Connect with Kelly Rodgers on LinkedIn
---
Tell us about yourself?
After a decidedly non-urban upbringing, I was delighted to find urban planning at Miami University as an undergraduate. After graduating, I moved to Oregon sight unseen—all I knew about Oregon was that there were forests and urban growth boundaries—for an internship with 1000 Friends of Oregon. Since then, I've explored various aspects of urbanism including land use planning, permaculture and green building, community design, and green infrastructure. The latter landed me in Vancouver, BC, to study landscape architecture. Once back in Portland, I wrote a little book about Portland's food carts, focusing on their contribution to the city. For life outside of work, my daughter and I frequently hit the bookstore and I hike, kayak, cross-country ski on weekends. I travel whenever I can.
What (or who) has influenced your career path in transportation?
Portland itself has been hugely influential. Living in Portland was really the first time I was able to experience an urban environment that had reliable and safe travel options beyond the automobile. Travels/studies in Denmark, Germany, and the Netherlands also underscored the value of multimodal transportation and the joy of cycling. However, I didn't engage professionally with transportation until I began working to develop a sustainable transportation analysis and rating system (STARS), which was a performance based framework for integrating climate, safety, health, and equity into transportation.
You're working on NITC-funded dissertation "The use and influence of health indicators in transportation decision-making." Tell us more about the project. What motivated you to choose this topic?
My dissertation is at the intersection of two interests of mine. The first is public health. Learning about the social determinants of health and how transportation systems contribute to health and health disparities has been a galvanizing force for me. The second area re-connects to my STARS performance measures (aka indicators) work, only now I'm examining whether and how they institutionalize health factors in transportation decisions. Furthermore, indicators can be seen as an extension of evidence-based policy, which is something that brought me to my PhD in the first place. My dissertation draws on diverse literatures in knowledge utilization, sociology of knowledge, public health, urban planning, and political science to operationalize the factors and mechanisms that explain why indicators are useful (hint: it's not only the data).
After you complete your PhD, what future work do you envision doing in transportation?
I intend to pursue research and consulting. As Executive Director of Streetsmart, a research synthesis and resource clearinghouse for integrating climate, health, and equity into transportation, I have been focused on translating systematic reviews to describe which strategies help us achieve our climate, health, and equity goals. I'd also like to expand upon conventional systematic reviews to provide more context-based guidance, such as conducting realist reviews (what works for whom, under what circumstances, and why?). Part of my goal is to bridge research and practice, so in addition to research translation, I'd also like to work on transportation strategies and plans for communities in order to create healthy, equitable, and sustainable communities.
Photo by ibsky/iStock
This is an installment in a series of monthly Student Spotlights we're shining on students and alumni that are involved with National Institute for Transportation & Communites (NITC) universities. NITC is a university transportation consortium funded by the U.S. DOT, and is a Portland State-led partnership with the University of Oregon, Oregon Institute of Technology, University of Utah, University of Arizona, and University of Texas at Arlington.
Share this: