TREC Is Celebrating Car-Free Commutes
Posted on September 22, 2017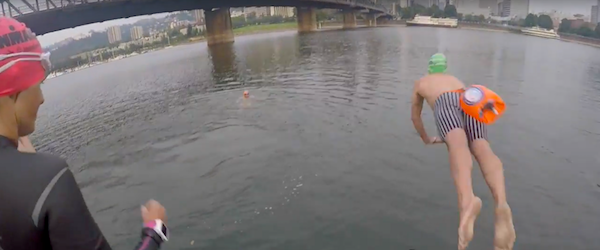 Happy World #CarFreeDay! Not satisfied with just one day of celebrating alternate mobility choice, we're kicking off a year of #OffbeatCommute by sharing the off the beaten path commutes of the staff, faculty and researchers of TREC, NITC and IBPI. Whether that's by bike, public transit, rollerblades, skateboarding, or running.
We invite you to join us in tagging your #OffbeatCommute by sharing your photos, videos and stories!
Starting off with a bang, here's our Communications Coordinator, Lacey Friedly, on her trek to TREC (hint, water is involved):
In celebration of Car-Free Day, I wanted to share a video of my human-powered journey to work. And so, last month I borrowed a GoPro and recorded my commute. I wanted to do this before the summer was over, because my commute had gotten particularly awesome during 2017. Earlier this summer I heard about Benjamin David, the man who got so tired of the traffic in Munich that he started swimming to work each day in the River Isar. I thought, that's so great—he chose to commute on his own terms. Why stay in the lines when you don't have to?
This got me thinking about human-powered travel.  I live in Milwaukie, Oregon, and work in downtown Portland—at TREC, on the Portland State University campus. I already loved biking to work because it made me feel strong, that I was able to get around the city using only my own muscles, not depending on an engine to carry me. Every time I would bike over the Hawthorne Bridge to cross the Willamette, I'd stop halfway across to look out at the sparkling river.  It's always a beautiful start to the day, so in the spirit of Car Free Day, I thought it would be fun if I could bring people with me on the trip. This video is a love letter to the City of Portland Bureau of Transportation, TREC, TriMet, the Human Access Project, Biketown, and all others who made this possible. I hope you enjoy this vicarious, POV journey, shaky camera and all!
Share this: