Student Spotlight: Steven Howland, Portland State University
Posted on September 23, 2017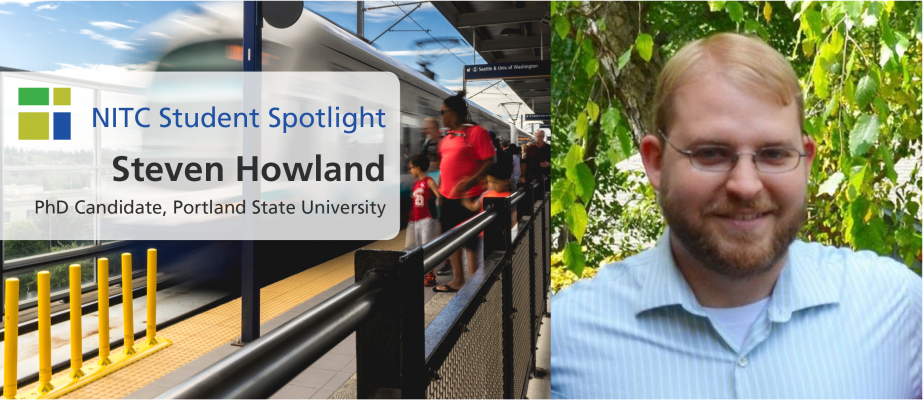 Steven Howland, PhD Candidate in Urban Studies at Portland State University
In addition to being a student, Steven has also acted as a researcher on a number of TREC projects:
Suburban Black Poverty in East Portland: The Role of Transportation in Making Ends Meet 
Evaluating Efforts to Improve the Equity of Bike Share Systems 
Peer-To-Peer Carsharing: Short-term effects on travel behavior in Portland, OR
Learn more about Steven by checking out his researcher profile, following him on Twitter @SHowland886, or read his recently published article in Metroscape Magazine "The Geography of the Commute".
---
Tell us about yourself:
I am Steven Howland, a PhD candidate in Urban Studies, where I specialize in economic development and poverty with particular interest in the intersections of the two with transportation issues. I hold a Bachelor's and Master's in Planning from Arizona State University. My dissertation looks at the transportation options, decisions, and barriers to low-income African-American households in Portland and how gentrification has impacted their ability to get around.
Why did you decide to attend Portland State University?
When I was applying to PhD programs in 2010, I was interested in PSU because of the work of Drs Jennifer Dill and Karen Gibson as well as the flexibility of the Urban Studies PhD program. Having spent 6 years in Phoenix doing my undergrad and Master's, it was also a major perk to move to a city that operates in a much different planning paradigm than Phoenix. While there have certainly been ups and downs in my time here, I have not been disappointed.
What are your career aspirations after PSU?
My goal is to become a tenure-track professor. In this role I want to continue my research into transportation and economic and community development around disadvantaged populations. Becoming a professor will also allow me to mentor and teach the next generation of professionals and researchers, a role I have thoroughly enjoyed in the opportunities I have had to do so.
How has TREC's research and work impacted you as a transportation professional?
TREC's research has expanded my horizons beyond typical transportation options. I have been involved in projects that have exposed me to emerging transportation technologies and how they may impact low-income populations. Without being able to delve into those projects, I likely would not have paid much attention to the ways emerging technology may be able to help or harm vulnerable populations.
Who is your Transportation Hero (and, why)?
My transportation hero is Dr. Evelyn Blumenberg at UCLA. Her work around transportation and low-income populations has been an inspiration for me since I was an undergrad. While there are many people who research low-income populations and transportation, she has been at the forefront of focusing on transportation beyond transit which is incredibly important to understanding the true nature of how low-income populations get around.
---
This is an installment in a series of monthly Student Spotlights we'll be shining on students and alumni that are involved with National Institute for Transportation & Communites (NITC) universities. NITC is a university transportation consortium funded by the U.S. DOT, and is a Portland State University-led partnership with the University of Oregon, Oregon Institute of Technology, University of Utah, University of Arizona, and University of Texas at Arlington.
Share this: