High School Girls Learn from Portland's Leading Ladies in Transportation Summer Camp
Posted on August 28, 2017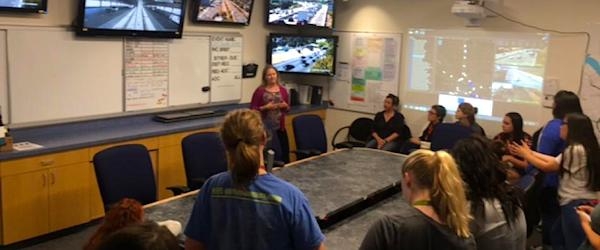 Nineteen girls presented ingenious transportation ideas to a packed room on Friday, August 18, the closing day of TREC's 2017 National Summer Transportation Institute (NSTI). For two weeks, the high schoolers had stayed in Ondine Residence Hall on the Portland State University campus; meeting for daily lectures at PSU's Engineering Building, hearing from some of the women who run transportation systems in Portland, Oregon and touring the city's agencies.
In between guest lectures and field trips, the NSTI class worked on group projects, which they presented at Friday's closing event to their family members and the course instructors.
On the first day of the camp, they were asked to think about a real-world transportation problem so they could use the skills they would gain to present a solution at the end of the course. The problems were real, and the solutions were impressive.
It might be because the guest lecturers were actual practitioners, who gave real talk about the issues they've encountered in their work and how they've tried to solve them.
It might also be because the curriculum was directed by TREC's own amazing Lisa Patterson and Ellee Stapleton along with Sarah Dougher, a literal rock star who came back after teaching the course last year.
Maybe it's just that the girls who took the course were already outstanding students with an aptitude for engineering.
The requirements include an interest in STEM, a teacher recommendation, and a willingness to spend two weeks of summer vacation trekking around Portland on foot, bike or train—at times in in a yellow safety vest—listening to transportation veterans explain things about infrastructure design.
For whatever reason, the presentations were well above the bar for high school.
"We encouraged them to think about problems they are interested in, and notice how the project changes over the two weeks – does it get wider or narrower? We also wanted them to be thinking about the ways that transportation interlaces with other systems, like housing and the economy," Dougher said.
One team designed an efficient BRT system for East Portland, complete with a model bus (right). A second group focused on pedestrian safety in Portland, another on better transit connections between Cornelius and Forest Grove. The fourth group focused on self-driving cars and highway safety, and the last researched and designed – again, complete with a model – double-decker TriMet buses that addressed problems with congestion, emissions, accessibility, fuel efficiency and passenger experience. All were presented with practicality in mind, grounded in data and assessed for budget.
"It's been a great experience," said Kathryn Fortuine, who worked on the safety project. Fortuine and her teammates, Emily Wong and Kendra Hutchinson, chose their topic out of personal experience. "We've all been in situations where we've felt uncomfortable or unsafe. Portland needs a little bit of safety and reassurance," Fortuine said.
Their recommended solutions included rectangular rapid flashing beacons, with auditory cues and multi-lingual signage, to allow more time for people to cross the road. They created a map of locations where the beacons would be installed, with priority areas flagged based on crash data and crime data. They also recommended placing Code Blue emergency phones at most transit stops.
The BRT group, Roxanne Neri-Wong, Jimena Rodriguez and Frannie Knight, identified target areas in need of enhanced transit service in East Portland. They recommended hybrid buses with electric motors and regenerative braking, and redesigned two intersections with better bicycle and pedestrian connections. They also designed the bus with accessibility in mind, complete with designated space for strollers and mobility devices.
The double-decker, low-emission, electric hybrid TriMet buses (left) were designed by Josselyn Studer, Isabella Grundseth and Nova Huynh. In addition to researching the cost efficiency, secondary effects and multi-level benefits of their proposed vehicle, they also researched the related legislation and found American manufacturers to help the transit agency meet purchasing requirements.
They even rerouted the bus line in order to sidestep the one and only overpass in Portland that the double-decker wouldn't clear. Their fully ADA-compliant buses would bear more passengers, require less gas and release fewer pollutants into the atmosphere than current models in use.
Daniela Leon, Isbeidy Salinas, Zoey Tevault and Ciclali Santos Alvarado worked on improving transit connections between Portland, Forest Grove and Cornelius.
They chose to create new bus routes rather than constructing a light rail system, which would have required some rearrangement of the people living along the highway. 
"We wanted to help people commute without uprooting the community," Salinas said.
They also examined the area's demographics and identified ways for the bus service to cater to their needs, including elderly residents, low-income populations, those experiencing mobility challenges and racial minorities. They demonstrated how property values would increase and carbon emissions would decrease, and mapped out the new routes and their connections to existing bus loops.
Anayely Cervantes, Abby Koonce and Kylee Sommer researched highway safety with a focus on Vision Zero and gave an informative presentation on the costs and benefits of self-driving cars, including specifications on the leading makes and models. They offered an overview of the current state of the practice and a look at some secondary effects of autonomous vehicles. Abby Koonce is the daughter of Peter Koonce, who manages the City of Portland Bureau of Transportation's Signals, Street Lighting & ITS Division.
NSTI Diary and Final Report
in September.
The course was managed by Patterson, Stapleton and Dougher with the assistance of counselors Kendra Lynn, Lynn Tran, Ali Doerr and Nikki​ Buck. 
It was made immeasurably more valuable with the help of all the guest lecturers and professionals who volunteered their time. These included TREC director Jennifer Dill, NITC researcher Amy Lubitow, Zan Gibbs of PBOT, Mary Stewart of Alta Planning + Design, Kristen Stallman and Lani Pennington of ODOT, Beth Wemple of HDR, Erica Bestpitch of the Women's Resource Center and Maria Hernandez of OPAL. 
The group's tours of PBOT and ODOT were led by Francesca Patricolo and Shelli Romero, respectively, and among the volunteers was Susan Criss, who was our research and education program administrator here at TREC before she moved to ODOT. 
The full complement of guest lecturers, visitors and volunteers, too numerous to list here but without whom the camp would not have been possible, will be shared in the upcoming NSTI Final Report.
The NSTI students came from St. Mary's Academy, Milwaukie Academy of the Arts, Valor Christian School, Benson Polytechnic, Reynolds, Forest Grove, Southridge, Beaverton, Westview, Sunset, Riverdale and Evergreen High Schools.
Funded by the FHWA, the goal of the NSTI program is to encourage more women and people of color to enter the transportation workforce. Now in its second year, TREC's NSTI camp is a unique way to introduce promising high school girls to Portland's active, thriving transportation community.
Share this: