TREC research stands out at Oregon Active Transportation Summit
Posted on March 21, 2017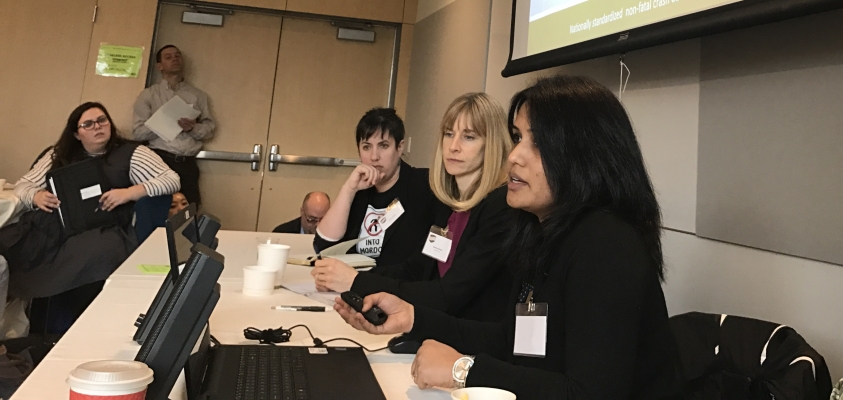 The 2017 Oregon Active Transportation Summit is happening, and TREC and Portland State University are well represented.
The event began yesterday, March 20th, and continues through today at the Oregon Zoo in Portland. In a breakout session yesterday afternoon, TREC researchers Sirisha Kothuri and Tara Goddard presented along with Rebecca Sanders of Toole Design Group in a session titled "The Latest in Bicycle and Pedestrian Safety Research" which explored systemic safety analysis, safety performance along road segments, and the psychology of roadway interactions.
Kothuri is a postdoctoral researcher and Goddard is a current Ph.D. candidate at Portland State. Both of them have been former NITC dissertation fellows, and Goddard presented her dissertation research on the effects of explicit and implicit attitudes on self-reported safety behaviors in yesterday's session.
Both Kothuri and Goddard are also working on ongoing research through the NITC program. Goddard studies transportation psychology and Kothuri's research centers on bicycle and pedestrian safety and signal timing.
Kothuri was also a presenter in a morning session yesterday, "Making Pedestrians and Bicyclists Count: The Case for Data."
Nathan McNeil (right), a research associate at Portland State, also presented his work yesterday in the "Bikes for Everyone: Inclusive" session with Timur Ender of the city of Portland and Sheilagh Griffin of The Street Trust. McNeil shared preliminary findings from his in-progress research on evaluating efforts to improve the equity of bike share systems.
Hilltop Planning, a group of students in Portland State's masters of urban and regional planning (MURP) program, presented in the session "Planning in the Dark: A New Light on Night Access." The group won the 2017 AICP student project award for their work improving transportation access to Oregon Health and Science University during evening, night and early morning hours.
Researchers from the Oregon Institute of Technology, a NITC partner school, contributed to the "Active Transportation Improvements and the Blue Zones Project in Klamath Falls" session.
Erin Cox, Kristen Konkel and John Ritter of OIT related the efforts of the Blue Zones Project, a community well-being improvement initiative designed to make healthy choices easier through permanent changes to environment, policy and social networks.
Share this: