We're Hiring: Transportation Data Program Manager
Posted on November 20, 2017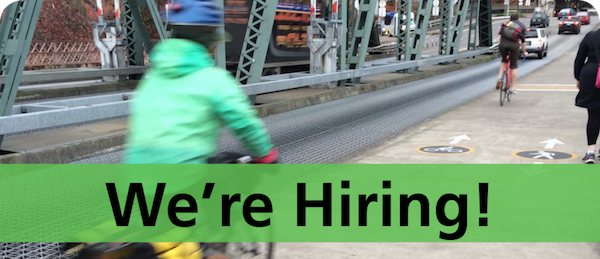 TREC is searching for a transportation data program manager to administer our Portal Program.
The Portal Program Administrator will work on a variety of transportation data projects that require data synthesis, analysis, presentation and visualization.
This individual will work closely with the Transportation Research and Education Center (TREC), PORTAL (the Portland Region transportation data archive), and bike-ped data to develop requirements and recommendations on improving the usability of the Portland regional transportation, and bicycle and pedestrian data to help meet the needs of transportation agency end-users.
The PORTAL transportation data archive contains freeway (speed, count, travel time), arterial (travel time, traffic signal, bicycle count, pedestrian push button), transit, incident, weigh-in-motion and weather data. The BikePed Portal is the national archive for bicycle and pedestrian count data.
For more information and to apply, visit the Portland State University job posting or view the full job description. Applications close December 10, 2017.
Sign up for our newsletter to receive updates.
Share this: